Add music you love and enjoy it with
Ray Charles - The Collection, Castle Communications

A Place On Earth - Greatest Hits, Virgin

The Best Of John Barry: Themeology, Columbia

Glorious (Various Artists), Columbia

Keane and K'Naan

Stop For A Minute

(CD Single), Island, 1

MOIRA'S GOLDEN OLDIE

Frankie Valli & The Four Seasons - Ve, Polygram Tv, 4

Drivetime 3 (Various Artists), Dino

The Jacksons

Shake Your Body (Down To The Ground)

Rhythm Divine 2 (Various Artists), Dino

Heartbeat - The 60's Gold Collection, Global Television

Country Moods (Various Artists), Polygram Tv

Lisa Kirk and the Girls

Tap Your Troubles Away

Mack and Mabel - Original Broadway Cast

Andrew Gold

Never Let Her Slip Away

Fantastic 70's (Various Artists), Sony Tv/Columbia

The Greatest Hits Of 1977 (Various), Premier

GOBSMACKER #1

20 Big Country Classics Vol.8, Trax Label

GOBSMACKER #2

Georgie Fame

The Ballad Of Bonnie & Clyde

30 Years Of Number Ones, Vol 5 (Var), Connoisseur

The Best Of The Beach Boys (CD 1), EMI

Million Sellers Vol.17 - The Seventie, Disky

Sultans Of Swing - Best Of Dire Straits, Vertigo

Bruce Springsteen

I'm On Fire

Bruce Springsteen - Born In The USA, CBS

(CD Single), Flat Cap Records, 1
Today's Show: It's No Use Having The Best Engine If You Haven't Got The Best Breaks

Today's show was dedicated to anyone who's first cuppa of the day is almost as important as their children's education

Today's Show Starred:

Steve Griffin from Pontypridd who went helicopter flying

Liz Robinson from Aberdeen who took hubby Mark on a bikers weekend to Skegness

Phil Bell from Farnham who reached the big 6-0

Oliver Martin from Portsmouth who did taekwondo for the first time as a black belt

Ethan Edwards from Blackpool who went pond-dipping

Ray Lee from Dorset who picked today's Golden Oldie

Katie Howells and Euan Nicol who made today's Mega-Phone-Call

Dr Glenis Scadding who is Head of the Allergy Clinic at the Royal National Ear, Nose and Throat Hospital in London

Angela Bailey from Nottingham who chose today's Gobsmackers

Rabbi Pete Tobias who helped us Pause For Thought

Karen Burgess from Bristol who said "elo"

Alex Newman from Oxford who said "Well heeellooo"

Barbara Cox from Highcleave who said "hello hello heeellooooo"

Pause for Thought

Rabbi Pete Tobias, of the Liberal Synagogue, Elstree

It seems that the volcanic intrusion into our lives is coming to an end. But its impact lingers on and for those caught up in the travel chaos, the struggle continues…
It's intriguing to note the profound effect this volcano has had on our modern lives. We knew it was happening, we could predict its effects, even see it on TV – but still it left us powerless. Imagine, then, what effect such an incident might have on our ancient ancestors thousands of years ago.
There's a little-known theory that suggests that the events of the Exodus, the escape of my ancestors from slavery in Egypt, was linked to the eruption of a volcano in the Mediterranean Sea more than three thousand years ago. Most people don't really accept this idea, but I find it strangely appealing.
It's well-documented that nature goes a bit crazy after a volcanic eruption: insects move as fast as they can in the opposite direction, there is dust which can create darkness and suffocate animals and sometime lumps of molten lava can fall from the sky – perhaps that's what the bible is describing when it talks of 'hail with fire flashing in it'? In short, all the biblical plagues – even the death of the firstborn – could be explained as consequences of, or responses to, this massive, frightening volcanic eruption.
Unfortunately there's no time to go into more detail right now. But let me just end by pointing out that those who escaped from Egypt were led by a pillar of cloud by day and a pillar of fire by night, which sounds remarkably like a volcano to me. And I think that volcano, which is now the island of Santorini – and the unpronounceable one in Iceland – indicate to us that we should show respect to nature as she can still disrupt and affect our lives, no matter how advanced and sophisticated our way of life might be. And maybe nature can teach us a thing or two: perhaps that we depend a little too much on air travel, or the importance of freedom. As the Liberal Jewish prayerbook says 'we find ourselves in the midst of a universe that is being formed at every moment, and we too are not yet fully grown.' Responding properly to nature can help us to grow.
BBC Playlister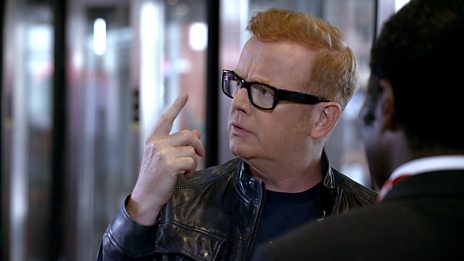 Chris has a song stuck in his head - but what is it? That's why he needs BBC Playlister!
500 WORDS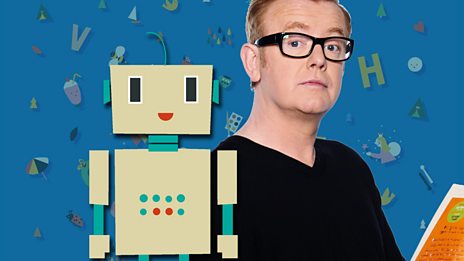 Featuring celebrity videos and top writing tips!
Free download
Catch up with the latest Breakfast fun with Chris Evans. Hear the best stories and the biggest…