Magnificent Maps

Magnificent Maps: Power, Propaganda and Art is at the British Library in London until 19 September 2010.

British Library site

Fragment of the Forma Urbis Romae, AD 200

The Forma Urbis Romae was a giant incised marble plan of the eternal city, made in around 200AD, and over 18 metres wide. The plan survives in over 1,300 fragments, in which can be seen its precise and unusually modern-looking detail.

Photo credit: Capitoline Museums, Rome

Detail from The Island, 2008

Stephen Walter's 'the Island' satirises the London-centric view of the English capital city and its outlying commuter towns as independent from the rest of the country.

Photo credit: British Library Board

Bird's-eye View of Canton, c. 1760.

This beautiful painting by an unknown Chinese artist is a supremely well-preserved example of a type of export painting created specifically for merchants. It constitutes a wonderful blend of Eastern and Western artistic styles, but the most prominent feature is its colourful jewel-like precision.

Photo credit: British Library Board

The Klencke Atlas, c.1660

This, the largest book in the world at almost six feet tall, was presented by the Amsterdam merchant Johannes Klencke to Charles II of England on his restoration to the throne in 1660.

Photo credit: the British Library Board

Glen Campbell

Glen Campbell is touring the UK until May 13th.

Nicola Barker

Burley Cross Postbox Theft, by Nicola Barker, is published by Fourth Estate on the 30 April 2010.

Extracts from the book are available as a free I-phone app from next Tuesday.

Tony Woollard

Tony Woollard's CD Cello Journey is on the Nova label.
Front Row's Cultural Exchange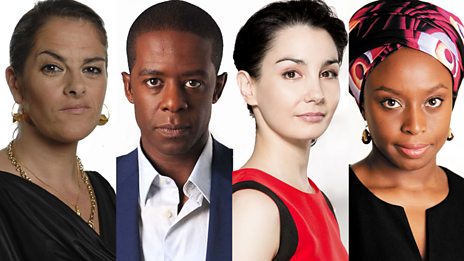 Seventy-five leading creative minds choose a favourite cultural work.