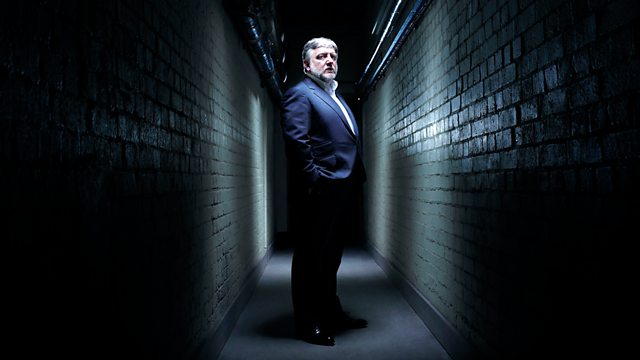 Simon Russell Beale stars as the intelligence officer George Smiley in a three-part dramatisation by Robert Forrest of John le Carre's classic novel, first published in 1979 and the third in the celebrated 'Karla Trilogy' following 'Tinker, Tailor, Solder, Spy' and 'The Honourable Schoolboy.'
Part 3: Smiley is ready to spring the trap on his life-long Russian adversary Karla. With Toby Esterhase watching his back, he now moves the operation to Berne in Switzerland. But can he be certain he's the hunter, not the hunted?
Ann ..... Anna Chancellor
Ostrakova ..... Lindsay Duncan
Peter Guillam ..... Richard Dillane
Saul Enderby ..... James Laurenson
Inspector Mendel ..... Kenneth Cranham
Toby Esterhase ..... Sam Dale
Grigoriev ..... Finlay Welsh
Night Registrar/Sister ..... Joanna Monro
Karla ..... Philip Fox
Tatiana ..... Alison Pettitt
Producer Patrick Rayner
This production continues BBC Radio 4's major undertaking of dramatising all of the eight novels that feature the spymaster George Smiley, played throughout by Simon Russell Beale.
'a radio triumph... Simon Russell Beale's pitch-perfect master spy.' (Financial Times)
The Smiley Books:
The bespectacled, tubby, eternally middle-aged, deceptively ordinary, constantly cuckolded, morally perplexed and steel-trap-minded George Smiley - a man said to possess 'the cunning of Satan and the conscience of a virgin' - is one of the most brilliantly realised characters in British fiction, and one of the very few to have an iconic status comparable to Sherlock Holmes.
Gripping as they are as sophisticated thrillers - le Carre is first and foremost a master storyteller - the eight novels are also profound studies of the British governing class and its institutions over the long years of the Cold War.
What the critics have said of The Complete Smiley:
'A cracking adaptation' (Financial Times)
'promised to be delicious, and it was.' (Guardian)
'radio drama at its best. Chillingly good.' (Daily Mail)
'Another utterly gorgeous adaptation.' (Time Out)
The eight and final novel in the Smiley sequence, 'The Secret Pilgrim', will be broadcast in June.
Simon Russell Beale's distinguished career has been concentrated almost entirely on the classical stage, where his parts include Hamlet, Iago and Macbeth. He won the Best Actor Olivier for his performance as Vanya in Uncle Vanya in 2003. He was awarded a CBE the same year.
Robert Forrest has written extensively for radio, where his work has won three Sony Awards. He has dramatised works by, among others, Leo Tolstoy, George Eliot, Robert Louis Stevenson, Conan Doyle, Ford Madox Ford and Vladimir Nabokov. His stage play for children Jason and the Argonauts has toured internationally and on Broadway. He lives in Strathaven, Lanarkshire.
This episode is available until 3.00pm on Sunday 2nd May as part of the Series Catch-up Trial.
Last on
More episodes
Next
You are at the last episode