Kishwar Desai

Witness in the Night by Kishwar Desai is published by Beautiful Books.
ISBN: 978-1-905636-85-3

Ann Cryer

Candidates known so far who have been selected to stand in the parliamentary constituency of Keighley, West Yorkshire:

Kris Hopkins, Conservative
Jane Thomas, Labour
Nader Fekri, Lib Dem
Paul Lathan, UK Independence Party

Saying Thank You

'The Pleasures and Sorrows of Work' by Alain de Botton is published by Penguin. ISBN-13: 978-0141027913

'The Virginia Monologues - Why it's Great to be Sixty?'. Her one woman show is currently touring.
Woman's Hour Power List 2014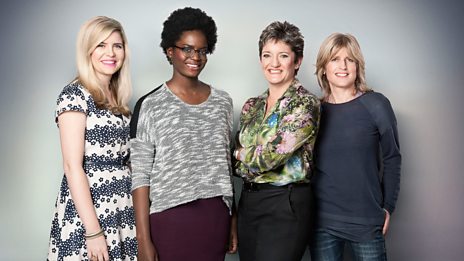 Identifying the top ten game changers operating in the UK today.
Free downloads
Discover cooking techniques and tips to help you perfect your cooking know-how. Jenni Murray and…

Which ten women in the UK have done most to game-change the way power operates in the UK, whether in…

Woman's Hour brings you the big celebrity names and leading women in the news, with subjects ranging…