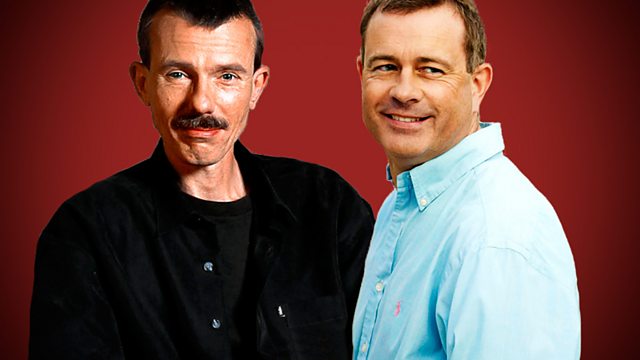 Faith
"Faith"
Today is the most important day in the Christian calendar, Easter Sunday, and so, building from this great festival, Iain Burnside looks out to the wider realm of "faith" in music, drawing on examples from Beethoven and Holst.
Producer: Lyndon Jones
Email: sundaymorning@bbc.co.uk
A Perfectly Normal Production for BBC Radio 3
Janacek: Intrada, Uvod and Kyrie from Glagolitic Mass
Susan Bullock (soprano)
BBC National Orchestra and Chorus of Wales
Richard Hickox (conductor)
BBC Music Magazine CD vol 17 no 6
Tracks 6-8
7m45s
Erlebach: Held du hast den Feind gebunden
('Hero, you have found the foe' - Cantata for Easter Day)
Les Amis de Philippe
Ludger Rémy (conductor)
CPO 777 346-2 CD1
Tracks 11-13
8m15s
Liszt: Rosario, S670, i) Mysteria gaudiosa, ii), Mysteria dolorosa, iii) Mysteria gloriosa
Zsuzsa Elekes (Liszt's own harmonium)
Hungaraton HCD 12768
Tracks 5-7
4m10s
Vaughan Williams: Five Mystical Songs
Easter, I got me Flowers, Love Bade me Welcome, The Call, Antiphon
John Shirley-Quirk (baritone)
Choir of King's College Cambridge
English Chamber Orchestra
Sir David Willcocks (conductor)
EMI CDM 5655882
Tracks 1-5
19m3s
Sibelius: Symphony No 5 in E flat major, op. 82, (4th movement)
Helsinki Philharmonic Orchestra
Jorma Panula (conductor)
Finlandia FACD004
Track 8
10m5s
Pete Seeger: One Grain of Sand
Odetta (voice, guitar)
Vanguard Masters 2153
Track 14
2m5s
Bach arr. Uri Caine: Goldberg Variations, Variation 14
Uri Caine (keyboards)
W&W910 054-2 CD1
Track 34
42s
Holst: Choral Hymns from the Rig Veda, Op 26, (Second Group)
To Varuna , To Agni, Funeral Chant
Royal College of Music Chamber Choir
Royal Philharmonic Orchestra
Osian Ellis (harp)
Sir David Willcocks (conductor)
Unicorn DKPCD9046
Track 2
12m11s
Mozart: Die ihr des unermesslichen Weltalls Schöpfer ehrt, K619
Heo Young-Hoon (tenor)
Alberto Bertino (piano)
Naxos 8570897
Track 10
7m50s
Trad. arr. Samuel Mabidikane: Namhla Niyabizwa
South African Church Choir
Rough Trade RGNET 1099 CD
Track 1
3m10s
Gubaidulina: Alleluia (Pt 7 - Da ispolnjatsja usta maja)
Four members of Copenhagen Boys Choir
Danish National Radio Symphony Orchestra and Choir
Dmitri Kitajenko (conductor)
Chandos 9523
Track 7
5m42s
Beethoven: Symphony no 9 in D minor op 125 (finale)
Berlin Philharmonic Orchestra
Claudio Abbado (conductor)
Karita Mattila (soprano)
Violeta Urmana (mezzo soprano)
Thomas Moser (tenor)
Thomas Quasthoff (bass)
DG 471 491-2
Tracks 4-5
22m.
Last on