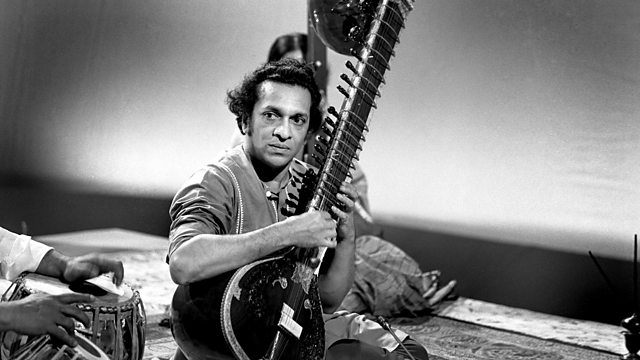 Ravi Shankar Birthday
Mark Tully surveys the career of Ravi Shankar, who celebrates his 90th birthday on 7th April. He looks back on an interview recorded with Ravi Shankar ten years ago, and introduces some of his classic recordings.
The interview was recorded in 2000 for a World Routes programme to mark Ravi Shankar's 80th birthday, and Ravi Shankar recalls his early life performing in Paris, his collaborations with Yehudi Menuhin and George Harrison, and talks about his eventful love-life. We also drop in on a lesson with Ravi's daughter Anoushka. Mark Tully is a writer and broadcaster, who for many years was the BBC's Delhi correspondent.
WORLD ROUTES
Presented by Mark Tully
Produced by Roger Short
Tel. 020 7765 4661
Fax. 020 7765 5052
e-mail world.routes@bbc.co.uk
Saturday 3rd April, 3:00pm
Raga Devgiri Bilawal
Ravi Shankar; accompanied by Alla Rakha (tabla)
Album: Ravi Shankar Rare and Glorious
Saregama Records CDNFC 150918-9
Ravi Shankar: Sare Jahan Se Achchha
Bismillah Khan
Album: Bismillah Khan
Regal Classics D/ELRZ 13
Raga Piloo
Ravi Shankar
Album: The Ravi Shankar Collection –West meets East
Angel 567180-2
Shankar: Homage to Mahatma Gandhi
Ravi Shankar
Album: Ravi Shankar – The Master
DG 4778798
Shanti Mantra
Ravi Shankar
Album: Ravi in Celebration - Highlights
Angel Records 55617-2
Raga Shudh Kalyan
Ravi Shankar
Album: Ravi Shankar Rare and Glorious
Saregama Records CDNFC 150918-9
Last on