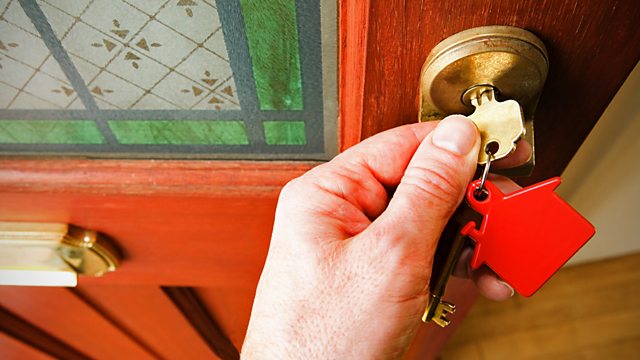 05/04/2010
Listen in pop-out player
Presented by Jane Garvey. In a special Easter Monday programme, Jane Garvey and guests explore the idea of home.
What is home? What does home mean to you? Is it where you come from or where you are now? Just bricks and mortar or something much more significant? Is it a place of sanctuary? Is it where we all want to be?
Former literary agent Jennifer Kavanagh spent a year asking people what home means to them. The answers are collected in her book the 'O' of Home. Jennifer gave up her house and most of her belongings to travel the world. She now lives in her old office. To her, home is not a place but a state of mind.
Lynsey Hanley is a journalist and the author of Estates: An Intimate History. She grew up on a housing estate in Birmingham. Lynsey was very affected by where she grew up.
Being uprooted - have you ever lost your home, or been forced to give it up? Have you ever been told to 'go home' because you don't belong? And what does it take to feel at home in a new place?
We also hear from a Womans Hour listener who has been living in the UK for 18 years but still doesn't feel at home, and Jane is joined by two guests who have experience of being uprooted. Tracie Giles is a Gypsy from the Parkway Crescent travellers site in East London - they were relocated to make way for the Olympics. Zrinka Balo is a refugee from former Yugoslavia and the Head of the Migrant and Refugee Communities Forum.
Living on the farm - most of us live in several different homes throughout our lifetime but for farming families there's often just one place that means home, and that's the hub of the business, the farmhouse.
Eifion Huws is a dairy farmer. He grew up on the family farm, Penn Rhos, on Anglesey, and has spent the last 27 years milking and tending the herd of Ayrshire cattle started by his father. Now it's time to make way for the next generation, and earlier this year he and his wife moved out of the family farmhouse and into a bungalow. Caz Graham visits them to find out how they're all adjusting to the new living arrangements.
Retirement - when you're no longer tied to a job or a school, the world's your oyster - but where to go? And who to live with? Will you take up residence in that granny flat your children offered? Or do you want to enjoy the peace of an empty nest? Stay in town or move to the country?
Ian Whitwham is a retired teacher who abandoned city life for a quiet sea-side retreat. Annie Evans lives in town and shares her home with four generations of her family - she wouldn't have it any other way.
Last on