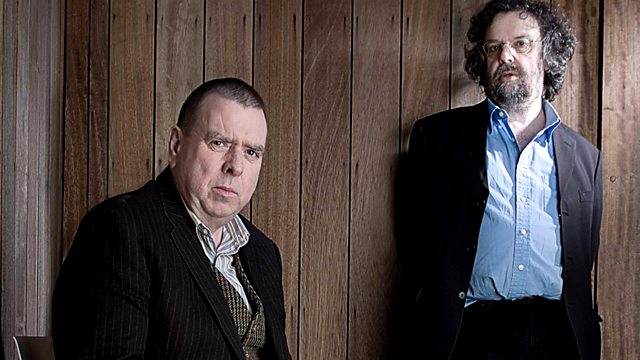 Stephen Poliakoff is reunited with leading actor Timothy Spall in a new two-part radio version of his drama Playing With Trains, to be broadcast in March. Spall is joined by Zoe Tapper (whose recent TV credits include lead roles in Survivors, Desperate Romantics and Affinity) and Geoffrey Streatfeild (who recently starred as Hal in the RSC's History Cycle). Poliakoff and Spall previously collaborated brilliantly on the ground-breaking TV dramas Shooting the Past and Perfect Strangers.
The play tells the story of the rise and fall of Bill Galpin (Spall), a flamboyant entrepreneur who pools his fortune into backing risky inventions which are concerned with safeguarding the environment, while at the same time having a very tempestuous but poignant relationship with his two children Roxanna and Danny (Tapper and Streatfeild).
Beginning in the heady days of the late 1960s, Playing With Trains deals with the fact that Britain invents so much, yet manufactures so little. Galpin makes a fortune from a brilliant development in gramophone technology, and then turns himself into a self-appointed patron and champion of inventors and innovators everywhere, clashing with the establishment through the libel courts, speeches to captains of industry, Civil Service offices and even TV shows.
Parallel to his relationship with industry is his even more tempestuous relationship with his children. Roxanna - whom he expects to become a great engineer - drops out of Cambridge and becomes an art student in an attempt to escape her father's grip. Danny, meanwhile, turns into the very thing his father despises - a financial expert, but in so doing recognises the shortcomings of his father's enterprises.
Playing With Trains is a moving family drama set over two decades, charting a "love affair" between father and daughter. It's Poliakoff at his very best, telling an intensely private story within a sweeping public drama.
Playing With Trains was originally staged at the RSC in 1989.
The cast is completed by Helen Longworth (Frances), Joseph Kloska (Mick), Nigel Hastings (Vernon Boyce), Michael Fenton Stevens (Gant) and Bruce Alexander (QC). It was produced and directed for BBC Radio Drama Birmingham by Peter Leslie Wild.
Producer/Director Peter Leslie Wild.
On radio
More episodes
Next
You are at the last episode
Credits
| Role | Contributor |
| --- | --- |
| Bill Galpin | Timothy Spall |
| Roxanna Galpin | Zoe Tapper |
| Danny Galpin | Geoffrey Streatfeild |
| Frances | Helen Longworth |
| Mick | Joseph Kloska |
| Gant | Michael Fenton Stevens |
| QC | Bruce Alexander |
| Judge | Nigel Hastings |
| Writer | Stephen Poliakoff |
| Director | Peter Leslie Wild |
| Producer | Peter Leslie Wild |