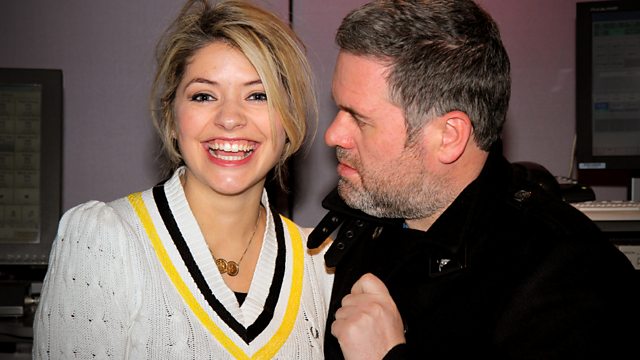 Friday - Holly Willoughby Skates In To See Us
(iPlayer times in brackets)
06:35 (00:05) – First of all, people are wondering who Dom is ogling today! Chris went out last night and has a guess who. Dom also has guess whos in the form of Tim Minchin and Dane Bowers – Incredible! Tina & Dave went to Dancing On Ice yesterday and we'll find out about that later on…
07:15 (00:45) – Where Am I with Westwood – which UK destination is he in today? Dave makes a small mistake regarding the clues and Fiona nearly gets the blame. We then get everybody to text in tutting at Fiona while she's out getting breakfast. This should really confuse her when she gets back!
07:35 (01:05) – Tina & Dave talk about their day at Dancing On Ice and we plug the video which is available to watch online.
07:45 (01:15) – We chat to Jake Humphrey live from Melbourne.
08:15 (01:45) – Holly Willoughby part 1. We talk about her clothing range and wonder whether we could design clothes?! We also talk Dancing On Ice and whether Dave would do it - he would of course!
08:45 (02:15) – Holly part 2. More about the shows she's worked on in the past, kids telly and Celebrity Juice.
09:00 (02:30) – The Golden Hour, Part 1. 1997.
09:35 (03:05) – The Golden Hour, Part 2. Our Choices.