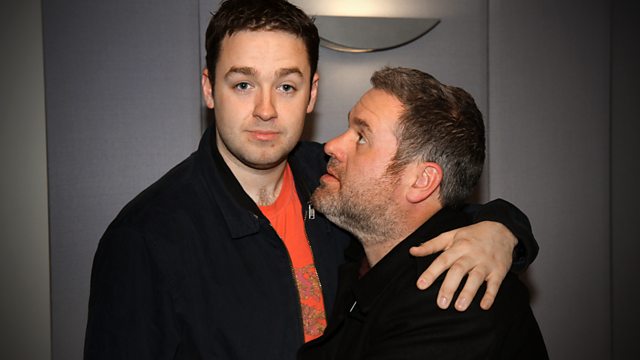 Thursday - Comedy Rocks With Jason Manford
(iPlayer times in brackets)
06:35 (00:05) – Yesterday Chris & Dave filmed Celebrity Juice and Chris spent the evening drinking with Phillip Schofield. We discuss Michael McIntyre because Jason Manford is on the show today. We also talk about pregnancy, waters breaking and getting vouchers from certain shops if it happens.
07:10 (00:40) – We play the first version of Jose as people are requesting it on the text. It's nice to hear the original again.
07:20 (00:50) – Where Am I with Westwood.
07:35 (01:05) – We discuss the quibbles over how far away Exeter is from London, and then talk about Chris Moyles quiz night which is on tomorrow night. Especially the maths questions and the theme music which Dave thinks is strangely familiar.
07:50 (01:20) – Dom has just experienced two amazing things. He saw a naked lady in a window opposite work and he used the lift for the first time in 5 years.
08:05 (01:35) – Chris is going to take Dom for a thrill ride after this and take him all the way up to the fourth floor.
08:45 (02:15) – Jason Manford is on. We talk about him coming down to London and his new show Comedy Rocks which starts tomorrow night.
08:55 (02:25) – More Jason Manford talking about fatherhood and twins.
09:10 (02:40) – Tedious Link: Amerie – 1 Thing.
09:15 (02:45) – Jason Manford - we talk about Jungle book and then play a game with him that basically involves us playing the Everton goals against city last night, and then the nice treat is some more Jungle Book for him.
09:45 (03:15) – Carpark Catchphrase with Lesley Anne & Mike. Lesley Anne wins and is back on Monday.
10:00 (03:30) – We talk to Fearne about last night and Chris being out with Phillip Schofield last night until all hours.