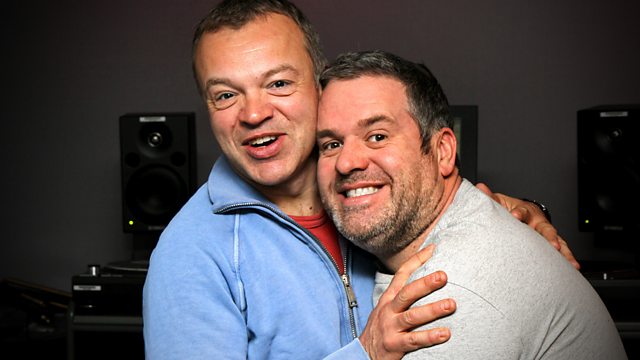 Wednesday - Graham Norton Is Over The Rainbow
(iPlayer times in brackets)
06:35 (00:05) – Chris was out all day yesterday because it was Sophie's birthday and Dave is knackered from doing a whole day of being a housewife because Jayne's working. Chris talks about how good he is at making the bed and then we talk about watching formula one in your pants! This then spirals into a conversation about formula one drivers whose names sound like bums or willies or underpants etc. We also talk about Cheryl Cole who was in the Live Lounge yesterday, and Chris broadcasting in Geordie is a bit like a dedicated BBC broadcast for the people of the North-East.
07:05 (00:35) – More Geordie Cheryl fun, and please stop now with the formula one in my pants stuff!
07:20 (00:50) – Aled's taken a photo of Dominic researching the weather and we've put it on Twitter & Facebook. We also do Where Am I With Westwood. Where is he today?
07:45 (01:15) – We plug Facebook and the way.
08:15 (01:45) – Graham Norton is here. We talk about the search for Dorothy & Toto and his dogs who will be tearing up his kitchen as we speak.
08:45 (02:15) – Graham plays the 'Quizard Of Oz' and does very very well.
09:10 (02:40) – Tedious Link: Seahorses – Love Is The Law.
09:15 (02:45) – We talk about Live From Studio 5 and JLC and then Dom gets a wall of chocolate éclairs from a well known Bournville based chocolate company.
09:45 (03:15) – Carpark Catchphrase.
10:00 (03:30) – We talk to Fearne about today's recording of Celebrity Juice. It's a special because we're going to be on there!