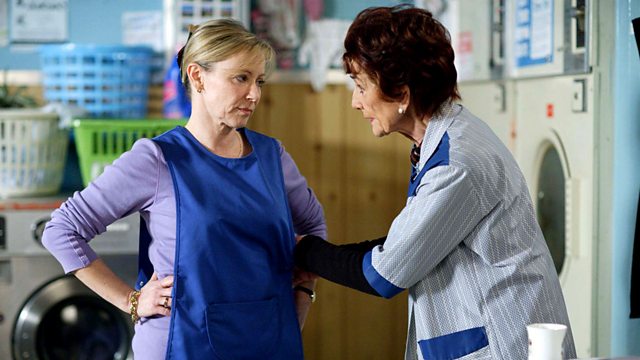 15/03/2010
Now in cahoots with Peggy, Danny tries to persuade Roxy to buy Booty, the closed down beauty salon. After a bit of sweet-talking, and a cheeky flirt with a rival bidder, Roxy seems set to put in an offer, she can afford it after all. The conspirators' glee is stifled, though, when Ian mocks Roxy for even considering such a worthless venture as the salon. Danny and Peggy are confused, and a little put out, when Roxy tells them that she is no longer planning to make a bid.
The Beales, and Jane in particular, are struggling to cope now that their secret is out in the open. Zainab provokes Jane at the book club, Carol puts Ian in his place at the launderette and Lucy ends up with the word 'skank' stuck to her back. Wanting to shoulder some responsibility, Leon approaches Lucy who hopes that he may be interested in a relationship with her. Her dreams are crushed, however, when he merely offers to accompany her to the clinic. She tells him that he is not needed because he is not the father.
The residents of Walford are suspicious when they see that Mo is planning a fun run for sport relief but although reluctant at first, they begin to sign up one-by-one.
It is the first day for Billie and Carol in their new jobs. Billie does well and impresses Ricky with his knowledge of motors. Carol, on the other hand, refuses to do Dot's induction and insists that she can handle the launderette on her own. Ignoring the warnings, she puts Ian's washing into a broken machine and he is understandably upset to find his load ripped to shreds. Dot then insists that Carol do the full induction and, unhappy at the insinuation that she might need training in how to fold socks, she quits.
Charlie, Dot, Jean and Denise suffer a disappointment when their petition falls on the deaf ears of the council. Trying to steer their thoughts away from digging up the ground, Lucas suggests that a youth project might keep the youngsters from vandalising the gardens and solve the problem at its roots. Having left to make tea, Lucas returns to the lounge to find that the three have decided, if the council refuses to dig up the gardens, they will do it themselves.
Phil and Minty discuss their taste in women and, with Shirley in earshot, Phil is holding back. After she has left and Phil has given a truthful answer, he is shocked to hear Minty tell him that his description of an ideal woman is a description of Shirley. The tempestuous lovers come together when Phil throws two women out of the Vic following a dispute with Shirley.
When Roxy's rival bidder comes into the Vic, she tells him that the salon is his; she is no longer interested in buying. To her surprise, he tells her that he was merely doing some legwork for a partner. Everyone is shocked when Ronnie walks in and announces her plans to buy Booty and turn it into a bar.
Last on
Credits
| Role | Contributor |
| --- | --- |
| Roxy Mitchell | Rita Simons |
| Peggy Mitchell | Barbara Windsor |
| Ronnie Mitchell | Samantha Womack |
| Tim Brown | Keir Charles |
| Danny Mitchell | Liam Bergin |
| Mitchell, Phil | Steve McFadden |
| Minty Peterson | Cliff Parisi |
| Shirley Carter | Linda Henry |
| Heather Trott | Cheryl Fergison |
| Dot Branning | June Brown |
| Carol Jackson | Lindsey Coulson |
| Billie Jackson | Devon Anderson |
| Lucy Beale | Melissa Suffield |
| Ian Beale | Adam Woodyatt |
| Jane Beale | Laurie Brett |
| Peter Beale | Thomas Law |
| Leon Small | Sam Attwater |
| Fat Boy | Ricky Norwood |
| Denise Johnson | Diane Parish |
| Lucas Johnson | Don Gilet |
| Mo Harris | Laila Morse |
| Charlie Slater | Derek Martin |
| Jean Slater | Gillian Wright |
| Zainab Masood | Nina Wadia |
| Ricky Butcher | Sid Owen |
| Libby Fox | Belinda Owusu |
| Executive Producer | Diederick Santer |
| Director | Alex Kalymnios |
| Writer | Colin Wyatt |