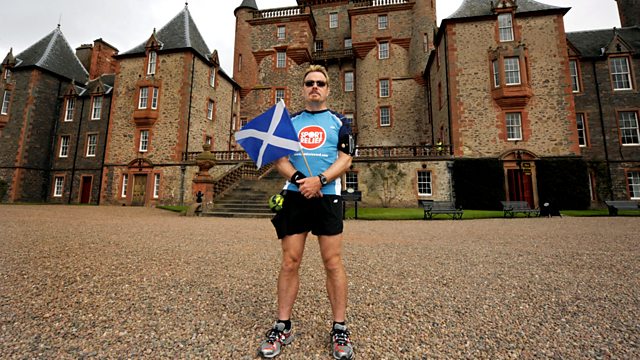 Documentary series which follows Eddie Izzard's insane Sport Relief challenge of running 43 marathons in 51 days. That's 1166 brutal miles around the United Kingdom - a marathon a day, six days a week, for eight weeks.
After having completed the first ten marathons in 11 days from London to Wales, he is still less than a quarter of the way round. With 33 marathons left Eddie has painful blisters, agonising injuries and is suffering from mental exhaustion.
Izzard is determined to keep going no matter what, spurred on by a fierce determination to succeed. He is due to perform a stand-up gig in the Lake District - a day off! - but this is seven marathons away. He's also motivated by the desire to revisit places en route that had a profound effect on his life during childhood.
Catastrophically, just a few miles in, he collapses in agony with his toenail hanging off. Faced with the prospect of attempting 33 marathons to the finish with yet another crippling injury, Eddie's support team advise him to slow down and walk a bit. He stubbornly refuses. He's going to do it his way and ignores the pain to continue running.
The route is not without danger. He has to navigate perilous roads and is almost hit by an oncoming car. Atrocious weather and terrible hills sap his energy, forcing him to go on a new high-carb diet. Eddie takes it to extremes, force-feeding himself until he feels bloated and ill.
Battling adversity, he continues through England, Scotland and Northern Ireland. Inspired by a Sport Relief project in Belfast and people mad enough to run with him, he finishes his 24th marathon in 28 days. Yet to get back to London and finish his journey he still has another 19 marathons to run.
Last on
Credits
| Role | Contributor |
| --- | --- |
| Producer | Rob Farquhar |
| Director | Rob Farquhar |
| Executive Producer | Clive Tulloh |