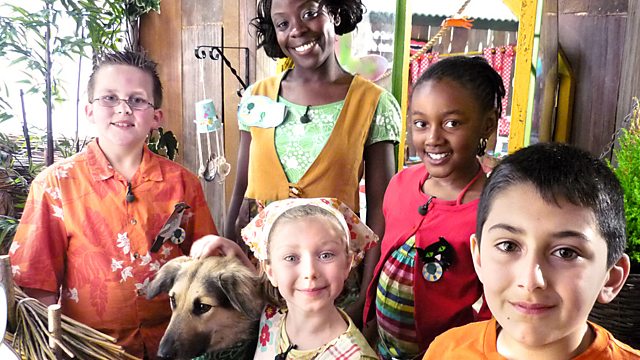 Find out what the Green Team get up to when they're not in the Green Balloon.
Lily-Rose is in her garden. When she checks the computer she finds a message from Green Balloon Club member, Isadora, who loves flowers too, so she and her brother Sammy show the gang around her granny's garden.
Lily-Rose is deciding where to put a squirrel statue, her latest addition to the garden and shows off all the animals in her garden. Jelly then reports in from a cave near Swansea in Wales which she is exploring with Green Balloon Club member, Toby.
Then everyone joins in with one of the team's favourite songs. Lily-Rose explains that you don't have to go a long way to find wildlife and introduces some Green Balloon Club members who are helping out at their local city farm, learning how to milk the goat.
Ant is out making Bug Files at his local Tropical House where he encounters a feely challenge and some very cute creatures who aren't bugs at all! Skipper heads off to Antartica where she goes for a long and cold walk with lots of penguins. Finally the whole team meet up for their final song.
Last on
Credits
| Role | Contributor |
| --- | --- |
| Actor | Chris Howard |
| Actor | Chris Howard |
| Actor | Isabella Blake-Thomas |
| Actor | Isabella Blake-Thomas |
| Actor | Adam Wells |
| Actor | Adam Wells |
| Actor | Jake Pratt |
| Actor | Jake Pratt |
| Actor | Thai Murray-Edwards |
| Actor | Thai Murray-Edwards |
| Sky | Debbie Korley |
| Jelly | Aliex Yuill |
| Skipper the Dog | Saba |
| Voice of Skipper | Ellie-Jo Pratt |
| Producer | Clare Bradley |
| Producer | Clare Bradley |
| Director | Lotte Elwell |
| Director | Lotte Elwell |
| Executive Producer | Alison Stewart |
| Executive Producer | Alison Stewart |
| Composer | Paul Moessl |
| Composer | Paul Moessl |
| Production Manager | Gilly Court |
| Production Manager | Gilly Court |
| Post-Production editor | Jennie Wright |
| Post-Production editor | Jennie Wright |
| Participant | Leo Brindle |
| Participant | Leo Brindle |
| Participant | Sarah Scully |
| Participant | Sarah Scully |