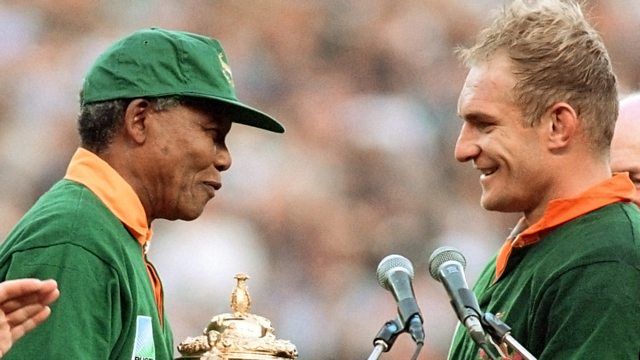 Soccer, Springboks and Segregation
As South Africa prepares to host the 2010 FIFA World Cup, Allan Little examines the role that sport has played in the republic's internal politics and in forming its international reputation.
South Africa is a country often divided both within itself and from the rest of the world. For decades sport was tarnished by class and racial divides. Two sporting cultures existed - one for whites, one for blacks - each with its own pantheon of heroes, triumphs and tragedies. Archive on 4 explores the role of sport in South Africa's history, from the Gleneagles Agreement that saw the Republic banned from worldwide competition, to the rebel tours in cricket and rugby and the athletes who were forced to leave their homeland in order to compete on the world stage.
Allan Little was there when South Africa won the Rugby World Cup; so too was Nelson Mandela, who was wearing Francois Pienaar's shirt - a highly significant gesture, symbolising the fact that he was not so much a white Afrikaner but the captain of a team the whole nation could support.
Allan charts the events that put South African sport on the front pages and assesses how the end of apartheid, the introduction of the controversial race quota systems in sport and the hosting of international tournaments like the rugby and football World Cups have affected the country's sport and society.
Last on