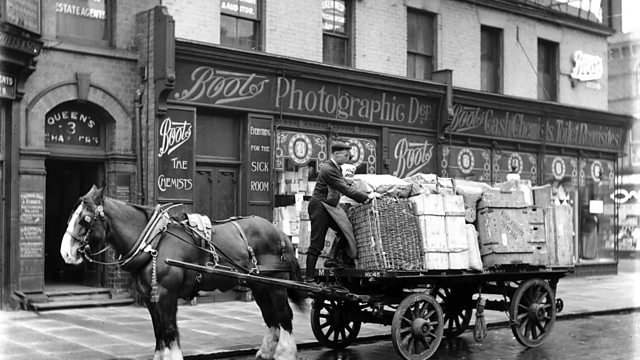 British brands, American takeovers: Boots and Cadbury
Listen in pop-out player
Jonathan Freedland takes the Long View of the recent purchase of Cadbury by Kraft, comparing the deal with the takeover of Boots the Chemist by an American company in 1920.
When the founder of the chain, Jesse Boot, put it up for sale it prompted a storm of controversy in the local and national press. A rival chain responded by marketing itself as the 'biggest British chemist', playing on the idea that Boots had betrayed their national roots. The takeover prompted a period of austerity in the company as the American owners embarked on an efficiency drive.
Jonathan draws on the lessons of the Boots takeover, asking how important it is for national brands to remain in British hands. Guests include Lord Digby Jones and Stefan Stern of The Financial Times, and readings are provided by James Coombes, former Milk Tray Man.
Image: Man unloading goods from a cart in front of a Boots store, 1915.
Last on