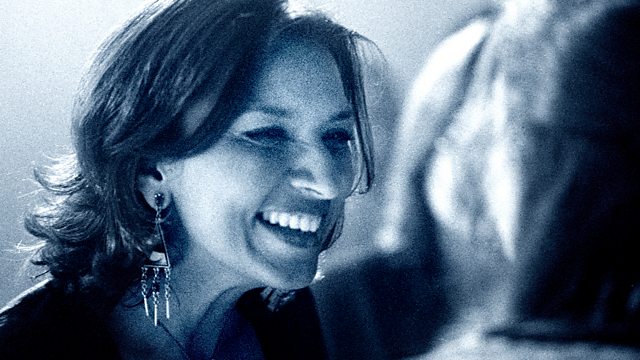 Lopa Kothari
Lopa Kothari introduces a session by the British-Asian singer Susheela Raman. Plus all the latest sounds from around the world. Producer James Parkin.
Susheela Raman is one of the leading artists and the pre-eminent vocalist to emerge from the Asian Diaspora. Born in the UK to Tamil parents, Raman aims to push musical and cultural barriers, finding new connections between India, Europe, Africa and the world.
With her artistic partner and husband Sam Mills, Raman released her first album - Salt Rain - in 2001 on Narada, an American subsidiary of EMI. It went gold in France and in the UK was shortlisted for the Mercury Music Prize. She also won the Best Newcomer award from BBC Radio 3. In 2003 she released her second album Love Trap which featured amongst other collaborators the Nigerian drummer Tony Allen and Tuvan singer Albert Kuvezin of the group Yat-Kha. The title track is a re-interpretation of an Ethiopian song from the seventies by the singer Mahmoud Ahmed.
To date, she's sold half a million albums, and is currently preparing to launch her third release.
World on 3
Presented by Lopa Kothari
Produced by James Parkin
Tel 020 7765 4661
Fax 020 7765 5052
e-mail worldon3@bbc.co.uk
Friday 12th March 2010
Samra Oya
Sayed Khalifa
Album: Egypt Noir –Nubian Soul Treasures
Piranha CD-PIR2337
Keita: La Difference
Salif Keita
Album: La Difference
Decca/Universal
O. Kaplan/T. Muskat/T.Yosef: Blue eyed Black Boy
Balkan Beat Box
Album: Album: Blue Eyed Black Boy
Crammed Discs CRAW 55-p
Studio Session
Susheela Raman (vocal)
Aref Durvesh (tabla)
Kumar Raghunathan (violin/vocal)
Kartik Raghunathan (vocal)
Sam Mills (guitar)
Trad, Arr. Raman: Muthu Kumar
Susheela Raman & Ensemble
BBC Recording by sound engineers Martin Appleby and Steve Bittlestone, Broadcasting House, March 2010
Trad, Arr. Raman: Pal
Susheela Raman & Ensemble
BBC Recording by sound engineers Martin Appleby and Steve Bittlestone, Broadcasting House, March 2010
Chris Eckman/Ousmane Ag Mossa: Black Gravity
Dirtmusic
Album: BKO
Glitterhouse Records GRCD704
King of Sapin
The Tallest man on the Earth
Album: The Wild Hunt
Dead Oceans Records DOC040
Joey Burns/John Convertino: Hoja en Blanco
Amparo Sanchez
Album: Tucson-Habana
Wrasse Records WRASS257
Vestido Loco
Anibal Velasquez y su Conjunto
Album: Mambo Loco
Analog Africa AALP067
João Lyra/Mauricio Carrilho: Caçuá
Nicholas Krassik
Album: Caçuá
Rob Digital Records RD084
Studio Session
Trad, Arr. Raman: Daga Daga
Susheela Raman & Ensemble
BBC Recording by sound engineers Martin Appleby and Steve Bittlestone, Broadcasting House, March 2010
Trad, Arr. Raman: Ennapane
Susheela Raman & Ensemble
BBC Recording by sound engineers Martin Appleby and Steve Bittlestone, Broadcasting House, March 2010
Mulatu Astatke: Fikratchin
Mulatu Astatke Ft. Menelik Wossenatchew
Album: New York – Addis – London –The story of Ethio Jazz 1965-1975
Strut Records STURT051CD
David Baruchel/Manuel Nectoux/Georges Chaccour/Benjamin Herbiere: Des Fois
Babylon Circus
Album: La Belle Etoile
Skycap Records CAP059
Sri Patnam Subramanyaiyar: Raghuvamsha
Jyotsna Srikant
Album: Insight Carnatic classical Instrumental Violin Duet by Dr. Jyotsna Srikanth
Theme Audio SJ002
Arr. Steinar Raknes: Sunnen Elle
Skaidi
Album: Where the Rivers Meet
DAT Records DATCD-44
Egwo umu agbogho
Joy Nwosu & Dan Satch
Album: Nigeria Special: Volume 2 Modern Highlife & Nigerian Blues 1970-6
Soundway SNDWCD020P
Galbi el Atouf
Salwa Abou Greisha
Album: Egypt Noir –Nubian Soul Treasures
Piranha CD-PIR2337
Last on
Seven pioneering figures in world music
BBC Introducing on World on 3