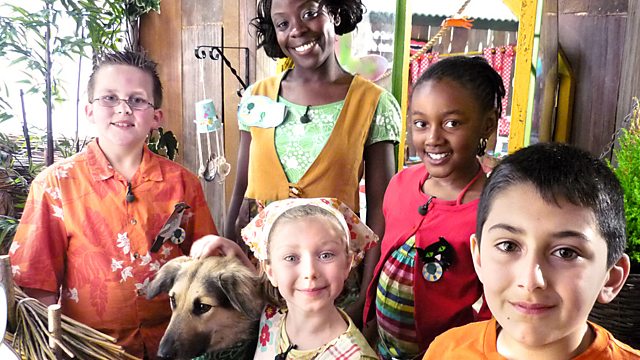 Cat and Skipper look for seeds in the park before catching up with the Ecowarriors. They are a group of school children who have been videoing all the wildlife in their school's garden. They show the fruit and vegetables they are growing and the wildlife they attract.
Ant is out making one of his Bug Files at his local Tropical House. He meets a huge millipede and some amazing leaf insects. Skipper is off on an African adventure where she meets a lot of water-loving hippos.
Finally the whole team meet up with lots of Green Balloon Club members to sing their environmental song.
Last on
Credits
| Role | Contributor |
| --- | --- |
| Actor | Chris Howard |
| Actor | Chris Howard |
| Actor | Isabella Blake-Thomas |
| Actor | Isabella Blake-Thomas |
| Actor | Adam Wells |
| Actor | Adam Wells |
| Actor | Jake Pratt |
| Actor | Jake Pratt |
| Actor | Thai Murray-Edwards |
| Actor | Thai Murray-Edwards |
| Sky | Debbie Korley |
| Jelly | Aliex Yuill |
| Skipper the Dog | Saba |
| Voice of Skipper | Ellie-Jo Pratt |
| Producer | Clare Bradley |
| Producer | Clare Bradley |
| Director | Lotte Elwell |
| Director | Lotte Elwell |
| Executive Producer | Alison Stewart |
| Executive Producer | Alison Stewart |
| Composer | Paul Moessl |
| Composer | Paul Moessl |
| Production Manager | Gilly Court |
| Production Manager | Gilly Court |
| Post-Production editor | Jennie Wright |
| Post-Production editor | Jennie Wright |
| Participant | Leo Brindle |
| Participant | Leo Brindle |
| Participant | Sarah Scully |
| Participant | Sarah Scully |