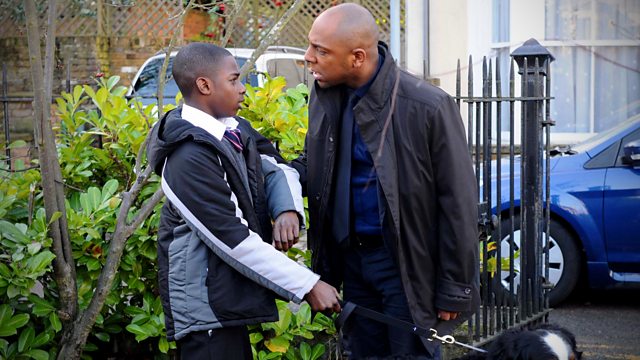 24/02/2010
Syed is preparing a banner for a party when Zainab returns, he is angry with Amira for taking the pill in secret when they were trying to have a baby. Amira exclaims that having a baby was his mother's idea, not theirs. Amira tells him she wants to wait to have a baby as she feels she is not ready for the responsibility yet. Syed thinks having a baby together shows how committed they are to one another and perhaps this is Amira's way of saying she does not want to be with him. Syed tells Amira he does not know if he can be married to someone he cannot trust. Amira runs out of the room stunned and upset, leaving Syed in a state of shame and self-loathing.
On their way back from hospital, Zainab tells Masood how exhausted she is, only to see half the square outside her house to welcome her and the baby, Kamil, back. Jane and Ian arrive at the party and Zainab makes a point of announcing that Amira and Syed are trying to get pregnant.
Earlier that day Billie and Whitney are kissing and fooling around on the sofa. Whitney does not want to tell anyone about them yet. Billie reminds her they are not related, so they are not doing anything wrong no matter how Bianca and Carol would see it. As Pat is going to be away for the weekend, Billie tells Whitney he can stay at hers and there would be no one to interrupt them. Whitney looks a bit uneasy at this idea.
Later that day, Billie and Whitney head over to Billie's council estate. Billy struggles out of his flat with his suitcase when a girl, Kylie, stops him and Whitney. Kylie rudely asks who Whitney is and tells Billie things aren't the same around there without him. To Whitney's disappointment, Billie tells Kylie that Whitney is just family and that he will be back soon.
At Patrick's, Jordan is playing with Sugar the dog, when Chelsea says Sugar was sniffing around Trina's tree. Jordan gets excited that maybe he could find hidden treasure under the tree. Hearing this, Lucas stiffens and tells him to leave the tree alone.
When Lucas is at Masood's baby party, Jordan crosses to the gardens with Sugar and starts to dig at Trina's tree. Lucas leaves the party and sees what Jordan is up to. He is furious with him. Jordan begins to cry and apologises. He tells Lucas he will try and keep the dog away form the tree. Lucas stares at Sugar as dark thought begin to cross his mind.
Elsewhere in the Square, Becca is desperate to find Stacey. In the café, Becca tells Jean how slow the police are being and decides she needs to take action herself rather than wait for them.
Earlier that day Lucy is hiding at home, mortified that Leon might have told everyone that Ian kicked him out. Jane tells Lucy it is Ian's house so Ian's rules. Lucy calmly accepts this and tells Jane she'll just have to move out. When Ian and Jane return from Masood's baby party, Ian is angry to realise Lucy didn't go to school. In frustration, he tells Jane to deal with her. Later, sitting around the table, Jane tells Lucy she thinks she should go on the pill.
Syed apologises to Amira for the things he said and agrees to wait until she is ready to have a baby. David, Masood's line manager and his colleague enter the party. They announce they need to search the house as there has been an allegation of stolen post.
Last on
Credits
| Role | Contributor |
| --- | --- |
| Zainab Masood | Nina Wadia |
| Tamwar Masood | Himesh Patel |
| Masood Ahmed | Nitin Ganatra |
| Syed Masood | Marc Elliott |
| Amira Masood | Preeya Kalidas |
| Lucas Johnson | Don Gilet |
| Denise Johnson | Diane Parish |
| Patrick Trueman | Rudolph Walker |
| Jordan Johnson | Michael-Joel David Stuart |
| Chelsea Fox | Tiana Benjamin |
| Jean Slater | Gillian Wright |
| Becca Swanson | Simone James |
| Ian Beale | Adam Woodyatt |
| Jane Beale | Laurie Brett |
| Lucy Beale | Melissa Suffield |
| Peter Beale | Thomas Law |
| Whitney Dean | Shona McGarty |
| Billie Jackson | Devon Anderson |
| Zsa Zsa Carter | Emer Kenny |
| Max Branning | Jake Wood |
| Carol Jackson | Lindsey Coulson |
| Billy Mitchell | Perry Fenwick |
| Minty Peterson | Cliff Parisi |
| Christian Clarke | John Partridge |
| Liz Turner | Kate Williams |
| Kylie | Elarica Gallacher |
| David Hensler | Jonty Stephens |
| Director | Rebecca Gatward |
| Executive Producer | Diederick Santer |
| Writer | Jake Riddell |