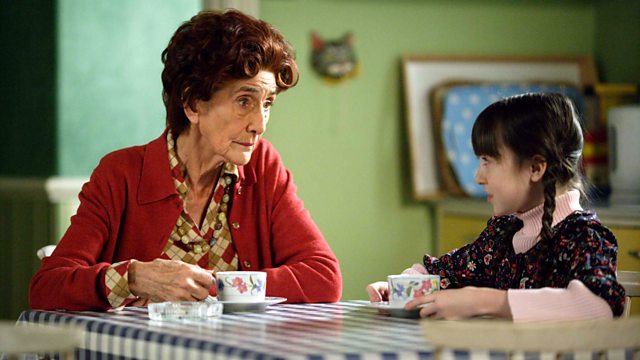 22/02/2010
Stacey is in a state of shock following Bradley's death. She will not leave her bedroom. Charlie and Jean are worried and try to coax her out. Becca intrudes and tries a less sympathetic approach, urging them to break down Stacey's door. Mo returns from holiday to hear the sad news.
Max is also distraught. Carol is playing the role of big sister and generally being logical, urging him to call Rachel. Max seems to be in a state of shock, only concerned with what shoes Bradley is to be buried in as the preparations for the funeral are underway.
DCI Marsden informs the Mitchells that she will not be taking the investigations any further. Peggy appears to struggle to believe that Bradley is the murderer. Ronnie seems unsurprised. A final exchange between Phil and Marsden leaves Phil unsure that she believes Bradley was the true murderer.
Worried for Stacey's safety, Charlie forces her door open to find her totally composed and ready to face people.
At Dot and Jim's, Bradley's death has made Dotty think about her own mum. Dot admits that she has something to tell her granddaughter. Dotty's mum was never in a car crash as Nick has previously said, but is alive. Dot asks if Dotty would like to see her. An emotional Dotty says yes, and Dot picks up the phone to call her.
The Square reacts to Bradley's death. Amira and Syed place flowers for Bradley, Roxy is scathing about her father's killer. Ian, Jane and Christian stand and look at the many flowers. Janine looks coldly on. Jack is rooted to the spot in front of the flowers..
Ronnie asks Ian if she can let her old flat. Spurred on by the sight of a hung-over Lucy, Ian says yes.
Stacey remains composed and matter of fact, but obviously heartbroken, stating that she just wants to say goodbye to Bradley, spurred on by Becca. They all go to the hospital to the Chapel of Rest.
The Mitchells are back in the Vic. Roxy wants them to get back to normal; Phil offers to buy Shirley a drink and seems genuinely interested in her but she snubs him.
Lucy bunks off school but as Jane urges Ian to trust her until he finds her in a clinch with Leon.
Max goes to see Bradley in the hospital, to take him his shoes. He apologises to him for everything, starting to come to terms with his death. He leaves Bradley's mum Rachel a message asking her to call him.
Christian comforts Syed in the Unit who seems shaken by how upset Amira is after her long-distance call to Syd, telling her of Bradley's death. Zainab walks in to find the pair close physically and confronts them angrily. Syed is embarrassed and apologises for his mother. They row, and in his anger he leaves and slams the door. As she tries to leave, the door handle comes away and she is left in the Unit, stranded with no phone. She types an email on Syed's laptop, which he has forgotten, and sends it, awaiting rescue. Later, when still no response, she feels a pain in her stomach and realises she is going into labour.
Stacey asks Jean, Becca and Charlie to leave, and sits outside the Chapel of Rest with the camera that her wedding pictures are on. She watches her wedding video; glances between that and Bradley, realising he is never coming back. She begins to run away, through the hospital, and into the street; running and sobbing.
Last on
Credits
| Role | Contributor |
| --- | --- |
| Stacey Branning | Lacey Turner |
| Bradley Branning | Charlie Clements |
| Max Branning | Jake Wood |
| Carol Jackson | Lindsey Coulson |
| Jean Slater | Gillian Wright |
| Becca Swanson | Simone James |
| Charlie Slater | Derek Martin |
| Mo Harris | Laila Morse |
| Zainab Masood | Nina Wadia |
| Syed Masood | Marc Elliott |
| Christian Clarke | John Partridge |
| Amira Masood | Preeya Kalidas |
| Jack Branning | Scott Maslen |
| Ronnie Mitchell | Samantha Womack |
| Roxy Mitchell | Rita Simons |
| Peggy Mitchell | Barbara Windsor |
| Phil Mitchell | Steve McFadden |
| Shirley Carter | Linda Henry |
| Heather Trott | Cheryl Fergison |
| Janine Butcher | Charlie Brooks |
| Pat Evans | Pam St Clement |
| Ian Beale | Adam Woodyatt |
| Jane Beale | Laurie Brett |
| Lucy Beale | Melissa Suffield |
| Dot Branning | June Brown |
| Jim Branning | John Bardon |
| Dotty Cotton | Molly Conlin |
| Leon Small | Sam Attwater |
| DCI Marsden | Sophie Stanton |
| Director | Rebecca Gatward |
| Executive Producer | Diederick Santer |
| Writer | Gillian Richmond |