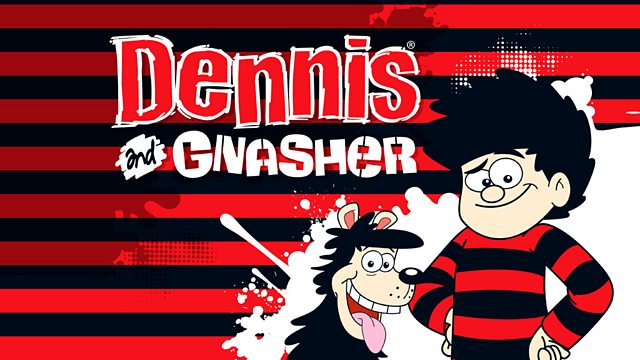 Dennis lives in Beanotown with Mum, Dad, little sister Bea and his pet dog Gnasher. Gnasher is more than a dog to Dennis - he is a kindred spirit. Whatever Dennis does, Gnasher does with him.
Together with their friends Curly and Pie Face, Dennis and Gnasher believe the world truly is their oyster and that kids should make the rules. Not everyone agrees, including Mum and Dad, but Dennis and Gnasher are not going to let that stand in the way of their pursuit of fun!
Dennis has forgotten to buy Mum a gift for Mother's Day and so, when his ideas to create something for her fail, he decides on one thing that is sure to make her happy - staying out of trouble for the whole day.
Starting off in his bedroom, it's not long before Dennis is bored, so he tries skateboarding, but nearly breaks things, so he moves out to the garden, but almost breaks the kitchen window with a frisbee. When invited to go fishing with Curly and Pie Face, Dennis agrees, thinking that it will be a quiet afternoon. However, Dennis's inadvertent actions cause a domino effect of chaos.
By the end of the day, it's clear that Dennis just can't stay out of trouble and Mum, while she wouldn't mind a bit of peace now and again, is content to deal with the chaos that trails behind her son.
Last on