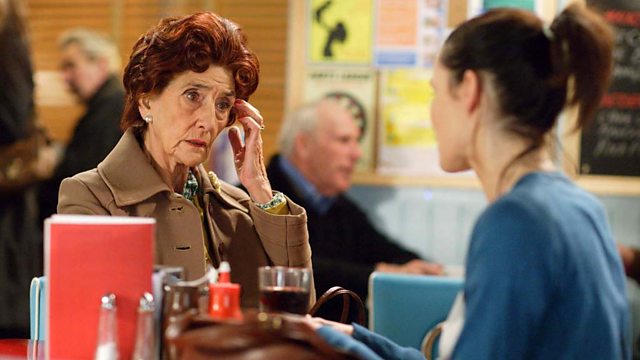 16/02/2010
Sonia is wrapped in nothing but a sheet and Phil is trying to explain to Shirley that nothing has happened between them. Shirley doesn't believe him and storms out. Phil questions Sonia as to what she was up to. Sheepishly, Sonia explains that he has always been good to her and misread the signals. Phil tells Sonia to stop raking up the past and that Jamie is dead and she has a new life now. Sonia explains that her "new life" is like a prison sentence and Martin doesn't seem to care about her. As Phil heads downstairs, Becca emerges from behind the kitchen door.
Phil goes round to Shirley's to try to sort things out but Shirley tells him she wants nothing to do with him. Phil tells her she is a good mate and urges her to wait and see what happens between them after the Archie stuff blows over.
Over at Pat's house, Carol barges past Bianca looking for Billie. Billie swaggers out of the kitchen, drunk. Furious, Carol tells him he is moving back home with her. Pat tells Bianca and Carol that they need to talk as it was Dan Sullivan that split their family apart ten years ago, and they shouldn't let him ruin Bianca's wedding too. Carol is adamant she does not want to discuss the issue and says she wants to get out of Walford as soon as possible. Later, Carol and Billie are about to leave, but Sonia interrupts them and rushes upstairs in tears. Amongst all the commotion Bianca asks Pat to call Ricky as she wants him there. However they do not realise Ricky has been blindfolded in the back of a van and taken to what he believes to be France. Carol follows an upset Sonia upstairs where Sonia explains that she does not think her marriage to Martin will last. Carol says she can always come and live her. Bianca watches the tender moment between them from the doorway.
Pat is out on the Square calling Ricky's mobile again and is confused when she hears a ringing sound coming from a nearby van. She opens the door and sees a naked, blind folded, Ricky. A confused Ricky starts mumbling for help in French.
Meanwhile, Carol and Billie are getting in the car to leave when they spot a nearly naked Ricky heading back to the house. As they drive off, Bianca turns to Pat and tells her "I just want my Mum". Billie wants Carol to go back as he has left something at Bianca's. Carol refuses but Billie tells her he shouldn't have to miss out on his sister's wedding because of Carol and Bianca's feud.
Over at the Brannings', Dot answers the door to a woman called Sandy. She tells Dot she is her son Nick's ex-girlfriend and is looking for her daughter, Kirsty. Dot tells Sandy she has not seen Nick in months and does not know of any child called Kirsty. Dot is of course lying – she knows full well that Kirsty is Dottie's real name. Dot ushers Sandy out of the house. Later, Dot catches up with Sandy in the café. Sandy tells her she isn't looking for Dot's sympathy; Nick took Kirstie away because Sandy was addicted to drugs, but now she is clean is desperate to see her again. Before she leaves, Dot takes her number.
At the Beales', Ian takes over from the kids filling out Bobby's family tree, insisting that their family is one to be proud of. Ian heads off to do some mysterious "excavating" at the allotments. Later Lucy heads over to the allotments and sees Ian digging away so she hides away watching and wondering what he is up to.
Jack bribes DC Hughes to make the DNA samples. Jack is relieved when DC Hughes takes the money but he tells Jack never to call him again. Back at the police station, DCI Marsden tells DC Hughes they have had an anonymous tip off as to where the engagement ring is hiding.
Becca arrives back at Stacey's and shows her Ronnie's hairbrush. Confused, Becca explains to Stacey that she stole it from Ronnie's bedroom and Stacey could use it as DNA proof that Archie is the father of her baby. Stacey is angry that Becca put her in such a risky situation. Bradley walks in and asks what is going on, at which point Becca disappears upstairs. Later Max barges into Stacey's and tells her he knows what Bradley did to Archie and he isn't going to let him go down for it. Stacey is horrified as Max tells her Jack has stalled the police but it's only a matter of time.
A crowd gathers in the Square as police cars pull up outside number 45. Jack spots Max heading towards the police and pulls him out of their earshot. Max tells Jack he is going to pretend to the police that he killed Archie to take the rap for Bradley. Jack tells him he doesn't need to, it is all over now. Max turns to see the police descending on Janine's flat. The police search Janine's flat and find Archie's engagement ring in her bedroom. They then officially arrest her for the murder of Archie Mitchell. Janine shouts that she has been framed as they handcuff her. As she is dragged out to the police car a crowd has gathered, Ian has joined them and has a small box with him. From inside the police car Janine whimpers, "I didnt do it".
Last on
Credits
| Role | Contributor |
| --- | --- |
| Janine Butcher | Charlie Brooks |
| Phil Mitchell | Steve McFadden |
| Peggy Mitchell | Barbara Windsor |
| Roxy Mitchell | Rita Simons |
| Ronnie Mitchell | Samantha Womack |
| Jack Branning | Scott Maslen |
| Ian Beale | Adam Woodyatt |
| Bradley Branning | Charlie Clements |
| Stacey Slater | Lacey Turner |
| Max Branning | Jake Wood |
| Bianca Jackson | Patsy Palmer |
| Ricky Butcher | Sid Owen |
| Carol Jackson | Lindsey Coulson |
| Billie Jackson | Devon Anderson |
| Pat Evans | Pam St Clement |
| Sonia Fowler | Natalie Cassidy |
| Robbie Jackson | Dean Gaffney |
| Whitney Dean | Shona McGarty |
| Shirley Carter | Linda Henry |
| Heather Trott | Cheryl Fergison |
| Dot Branning | June Brown |
| Dotty Cotton | Molly Conlin |
| Lucy Beale | Melissa Suffield |
| Billy Mitchell | Perry Fenwick |
| Minty Peterson | Cliff Parisi |
| Darren Miller | Charlie G Hawkins |
| Ryan Malloy | Neil McDermott |
| Becca Swanson | Simone James |
| Zsa Zsa Carter | Emer Kenny |
| DCI Marsden | Sophie Stanton |
| DC Hughes | Jamie Treacher |
| Sandy | Caroline Pegg |
| Liam Butcher | James Forde |
| Tiffany Dean | Maisie Smith |
| Morgan Jackson-King | Devon Higgs |
| Bobby Beale | Alex Francis |
| Director | Clive Arnold |
| Executive Producer | Diederick Santer |
| Writer | Matthew Evans |