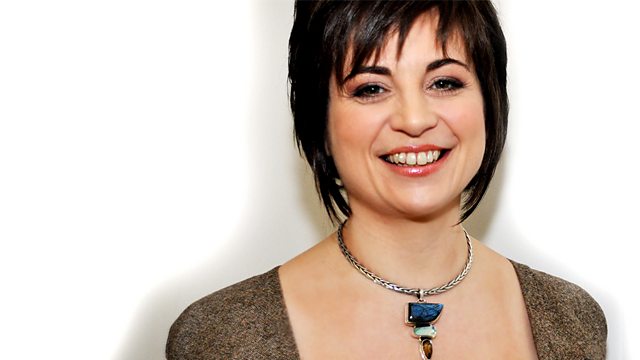 Mary Ann Kennedy
Mary Ann Kennedy introduces a special programme from Ardgour in Scotland's Western Highlands, with sessions from two generations of Scottish musicians: Sandy Wright, a veteran singer who is now being acclaimed as the country's 'finest undiscovered songwriter', and The Bevvy Sisters, fronted by three Edinburgh singers who share a passion for Americana, vintage rarities and original songwriting.
Radio 3 launches a week-long focus on Scotland today, and this World on 3 comes from Mary Ann's own studio at home on the shores of Loch Linnhe.
This month sees the release of a major double album featuring the songs of Sandy Wright - one CD is his solo debut with his band The Toxic Cowboys, and the second is a tribute by major artists of the younger generation, with Sandy's songs recorded by Eddi Reader, Chris Wood, Kris Drever, Karine Polwart and others. In his 60th year, after a colourful career which included years in the army and working as a clown, maybe it is time for Sandy to get the recognition many think he deserves.
Heather Macleod, Kaela Rowan and Lindsey Black are all established singers in their own right, coming together occasionally as The Bevvy Sisters, singing tight, three-part harmony songs from the days of the Andrews Sisters, as well as contemporary self-penned songs. Their debut album was released at the end of January.
Friday 26th February
Wright, Arr/ Dreever/McCusker: Steel and Stone
Kris Drever
Album: The Songs of Sandy Wright
Navigator Records Navigator23
Mohamed Kamara: Living Stone
Sierra Leon's Refugee Allstars
Album: Rise & Shine
Cumbancha CMB-CD-18
Keita: Gaffou
Salif Keita
Album: La Difference
Emarcy Records 8824026
Studio Session
Sandy Wright & The Toxic Cowboys
Sandy Wright (vocals/acoustic guitar/accordion/harmonium)
Sarah McFadyen (vocal/fiddle/banjo)
Joel Sanderson (cello)
Ian Stoddart (drums/percussion)
Dave Rattray (acoustic/electric guitars)
Ruth Barrie (vocals/percussion)
Wright: This Old House
Sandy Wright & the Toxic Cowboys
BBC Recording by engineer Nick Turner at Watercolour Music Studios, Ardgour, February 2010
Wright: Beads and Feathers
Sandy Wright & the Toxic Cowboys
BBC Recording by engineer Nick Turner at Watercolour Music Studios, Ardgour, February 2010
William Billings/Isaac Watts: Bear Creek
Members of the Liberty Baptist Church, Henagar, AL
Album: Awake my Soul –Traditional Sacred Harp Singing
Awake Productions
Trad: Jack Orion
Laura Cortese
Album: Blow the Candle out
Laura Cortese Records 837101114219
Wright: The aliens have landed
Sandy Wright & the Toxic Cowboys
BBC Recording by engineer Nick Turner at Watercolour Music Studios, Ardgour, February 2010
Wright: My Shining Star
Sandy Wright & the Toxic Cowboys
BBC Recording by engineer Nick Turner at Watercolour Music Studios, Ardgour, February 2010
Alayenem Belo/Alsemanem Belu: Say you have never seen nor heard
Zerfu Demissie
Album: Akotet
Terp Records Terp As-12
Debranotch/DJ Click: Batuta (DK ClicK rmx)
Debranotch & DJ Click
Album: Balkan Grooves
Eastblok Music EBM016
Studio Session
The Bevvy Sisters
Heather MacLeod (vocals)
Kaela Rowan (vocals)
Lindsey Black (vocals)
David Donnelly (guitar)
James mackintosh (Percussion)
Emma Smith (Double Bass)
Donald Hey (Percussion)
Donnelly: 1000 Miles
The Bevvy Sisters
BBC Recording by engineer Nick Turner at Watercolour Music Studios, Ardgour, February 2010
Macleod: Old mother earth
The Bevvy Sisters
BBC Recording by engineer Nick Turner at Watercolour Music Studios, Ardgour, February 2010
We dey find money
Eric Showboy Akaeze & his Royal Ericos
Album: Nigeria Afrobeat
Soundway Records SNDWCD21
Black: Fine Lines
The Bevvy Sisters
BBC Recording by engineer Nick Turner at Watercolour Music Studios, Ardgour, February 2010
Rowan/Sunshine: Apocalypse
The Bevvy Sisters
BBC Recording by engineer Nick Turner at Watercolour Music Studios, Ardgour, February 2010
Wright: If I could build a ladder
Sandy Wright & the Toxic Cowboys plus the Bevvy sisters
BBC Recording by engineer Nick Turner at Watercolour Music Studios, Ardgour, February 2010
Last on
BBC Introducing on World on 3