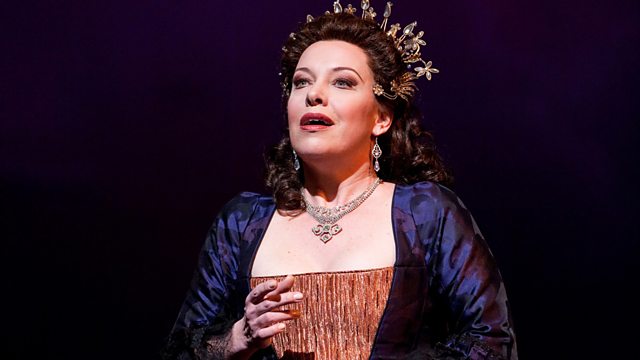 Strauss' Ariadne Auf Naxos
Live from the Metropolitan Opera in New York. Greek tragedy collides with the mischief-making of the commedia dell'arte in Richard Strauss's opera-within-an-opera Ariadne auf Naxos, conceived in collaboration with the librettist Hugo von Hofmannsthal. The fabulous Swedish soprano Nina Stemme takes the title role, with Kathleen Kim as the ever-pragmatic Zerbinetta, and Sarah Connolly as the naive young Composer. Strauss's music combines pathos and wit in this inventive piece.
At the house of a Viennese nobleman, a new opera 'Ariadne auf Naxos' is to be performed, followed by an Italian comedy, but it is announced that both plays will have to be performed simultaneously due to time restrictions.
In the opera itself, Ariadne has been abandoned on the island of Naxos by Theseus. She longs for death, but Zerbinetta tries to persuade her to replace her love for Theseus with another, as it is only human to change an old love for a new one.
Presented by Margaret Juntwait with guest commentator Ira Siff. Live backstage interviews during the interval.
Ariadne: Nina Stemme (soprano)
Zerbinetta: Kathleen Kim (soprano)
Composer: Sarah Connolly (mezzo-soprano)
Bacchus: Lance Ryan (tenor)
Music Master: Jochen Schmeckenbecher (baritone)
Najade: Anne-Carolyn Bird (soprano)
Dryade: Tamara Mumford (mezzo-soprano)
Echo: Erin Morley (soprano)
Dancing Master: Tony Stevenson (tenor)
Brighella: Sean Panikkar (tenor)
Scaramuccio: Mark Schowalter (tenor)
Harlequin: Markus Werba (baritone)
Kirill Petrenko - conductor
Metropolitan Opera Orchestra.
Last on