Add music you love and enjoy it with
The Beatles - 1, Apple, 2

The Beatles : 1967-1970, Apple, 1

The Pretenders - The Singles, WEA

Mika

Blame It On The Girls

(CD Single)

Fantastic 70's (Various Artists), Sony Tv/Columbia

MOIRA'S GOLDEN OLDIE

Heartbeat - The 60's Gold Collection, Global Television

Them

Baby Please Don't Go

The Greatest Hits Of 1965, Premier

This Is Easy (Various Artists), Virgin

1999 Grammy Nominees (Various Artist, Elektra

Our Friends Electric (Various Artists, Telstar

Ian Dury

and

The Blockheads

Hit Me With Your Rhythm Stick

Fantastic 70's (Various Artists), Sony Tv/Columbia

The Greatest Hits Of 1966, Premier

GOBSMACKER #1

Ultimate Country (Various Artists), Telstar

GOBSMACKER #2

Europe

The Final Countdown

The Very Best Of Power Ballads (Various Artists), Virgin

Alicia Keys

Empire State Of Mind (Part II) Broken Down

The Element Of Freedom, Sony Music, 14

Meat Loaf

You Took The Words Right Out Of My Mouth

The Very Best Of Meatloaf, Virgin
Today's Show Was Entitled: You Can Only Be Who You Are

Today's show was dedicated to anyone who got something slightly wrong at the weekend

Today's Show Starred:

Benjamin Edmonds from Woodstock who took his grade eight saxophone exam

Philippa Hiscutt from Lincolnshire who celebrated her 21st birthday by doing a Sky Dive for charity

Angela Wright from Redditch who opened the doors of her new local library after a refurbishment.

Anabel Ruggiero from ahsbury who perfromed at the tap awards

Martin Wright from Staplehurst who went curling

Sue Pearce from Mortimer who chose today's Golden Oldie

Moira Owers and Cheryl Callow from Great Dunmow who made today's Mega-Phone-Call

Keith Chegwin, one our favourite entertainers

Bill from Forest Gate who picked today's Gobsmackers

Father Brian D'Arcy who helped us pause for thought

Kathy Enfield from Lancashire who said "Hello Hello Helloo"

Jason Paulucci from Melton Mowbray who said "Heeelloooooo"

Sue Hallan from Stoke On Trent who said "He-He-He-Hellooo"

Pause for Thought

From Father Brian D'Arcy, a Passionist Priest and Presenter of Sunday Half Hour

I don't know about you Chris but I am a fan of the Simpsons I when I get a chance to see them. They've been the most dysfunctional family on Television since 1987. We probably think that if The Simpsons can survive, so can we. More than 60 million people watch them worldwide each week.

That figure got a boost recently when the official newspaper of the Vatican, L'Osservatore Romano, wrote approvingly about The Simpsons. It was a shock for many traditionalists to see such a conservative paper encouraging the irreverent and often politically incorrect humour of Homer Simpson. And that's not taking into account the brashness of young Bart or the off the wall treatment of so many sacred cows. Bart once confessed: "I've done many things I am NOT proud of, and those I am proud of are disgusting."

Homer mused about religion: "What's that religion with all the well meaning rules that don't work out in real life?...You know, Christianity". Yet the Vatican paper suggested that without the "tender and irreverent, scandalous and ironic, deranged and profound" programme, with its "philosophical and at times even theological touches, today many would not know how to laugh." To be fair, you'd find it hard to disagree with that.

I've always believed a sense of humour is necessary to get us through life. Comedian Ken Dodd, (Almighty Dodd to some) said "Laughter is a Divine gift; it's like jogging on the inside". When you think about it God must have a sense of humour when he looks at how we mess up every day. As an aid to sanity, I have on my desk a postcard which reminds me: "Blessed are those who can laugh at themselves; they will have no end of fun."

The Vatican paper quoted the late Pope Paul the Sixth to justify its interest in all forms of communication. He said that nothing human is alien to the Church. I wonder how that applies to a cartoon family. In any case I'll leave you with another theological gem from Homer. When he was asked why he led such a blasphemous life, his reply was: "Don't worry sweetheart, if I'm wrong I'll repent on my deathbed. Always have a back-up plan." And that IS good advice.
500 WORDS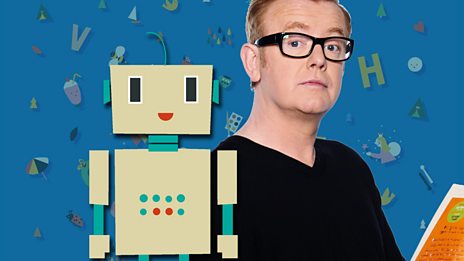 Featuring celebrity videos and top writing tips!
Free download
Catch up with the latest Breakfast fun with Chris Evans. Hear the best stories and the biggest…