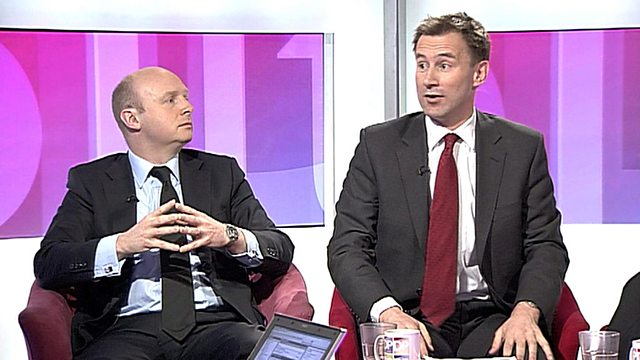 03/02/2010
Joining Andrew Neil and Jo Coburn are two rising stars in British politics, Liam Byrne, the Chief Secretary to the Treasury and Shadow Culture Secretary Jeremy Hunt.
Mr Hunt will be grilled on the new Conservative proposals for changing how the BBC is governed, and we'll look at whether the Pope is right to criticise Britain's human rights laws.
Plus there's details of the government's new Green Paper on defence and thoughts of the former Head of the Army General Sir Mike Jackson.
In the spirit of daytime TV, Richard Madeley is on the show, and he'll be telling why he thinks Tony Blair was right about invading Iraq.
Plus full coverage and expert analysis of Prime Minister's Questions.
Last on