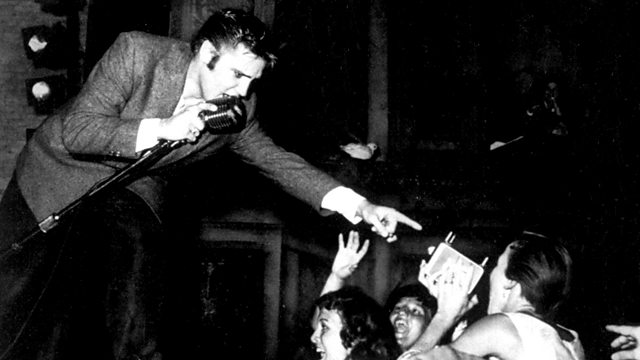 Michael Freedland concludes his journey to mark the 75th anniversary of Elvis' birth. This week he travels to Las Vegas, before driving through the Mojave desert to arrive in LA.
In Vegas, Michael takes a tour of the King's Ransom exhibit at the Imperial Palace Hotel, a museum run by Jimmy Velvet. He talks to devoted fan, Vicky Sisler; fan club supremo Sue Land; one of Elvis' Memphis Mafia Joe Esposito, who actually met Elvis out in Germany when they were doing their national service; Linda Thompson's brother Sam, another Presley bodyguard; and jeweller Stuart Small, who has many tales to tell of Elvis' legendary generosity.
In LA, we explore Elvis' film career, talking to co-star Celeste Yarnall; screenwriter Michael Hoey; friend, impersonator and Mafia protege, Jimmy Angel; his hairdresser and spiritual companion, Larry Geller; and former girlfriend Linda Thompson, who speaks candidly of her time with Elvis. Michael also spends an extraordinary evening in the home of one of Presley's songwriters, Don Robertson, who manages to play the piano despite a recent stroke.
What comes out of all these conversations? A truly rich and insightful picture of Elvis the man, and Elvis the singer. A man with a fierce temper but a man with a tremendous respect for people, who "Yes, Ma'amed" and 'No, Sirred'; a lonely man with a thirst for friendship, companionship; a man who could spend all night on the dodgems but who had an insatiable spiritual desire to find out what his purpose on earth was; a great singer and superstar who yearned for the ordinary things in life; a man of huge generosity, who gave away millions of dollars worth of cars, houses and jewels to friends and often complete strangers; a shy man, a modest man, a man of simple tastes; the King of Rock 'n' Roll.
Last on
More episodes
Next
You are at the last episode