Johnny Cash of Easter Cash
Listen in pop-out player
Johnny Cash is an all-American hero, yet he discovered that his ancestors came from a small village in Scotland. A chance conversation on a transatlantic flight led him to trace his family roots to Easter Cash in Fife. Sarfraz Manzoor goes in search of the Cash connection.
Mary Anne Hobbs recommends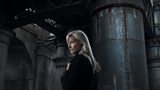 "Why did Johnny Cash used the name 'Malcolm' when he checked into hospital? The reason, says his daughter Roseanne, is that the Cash family are descended from King Malcolm IV of Scotland. This programme documents Johnny's search for his Scottish roots and the extraordinary impact that 'the Man in Black' had on the local community when he descended upon Falkland Palace in Fife to film a Christmas special for American TV."
Read all of Mary Ann
e's recommendations
Featured in...
The 6 Music DJ selects the best Radio 4 music documentaries for Seriously...