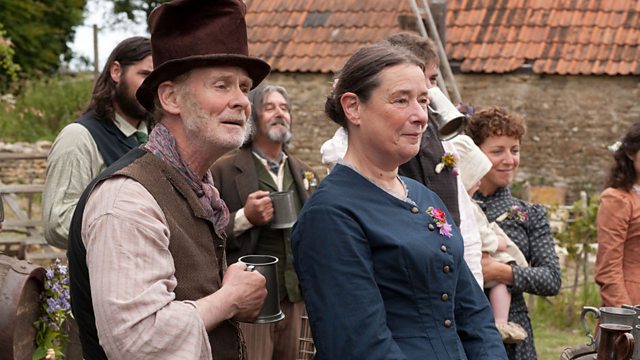 Alf throws a party to celebrate moving into a cottage of his own. He entertains his guests with a new song, and its haunting words have a profound effect on all of them.
Edmund rebels against his parents; Thomas and Margaret have their first marital tiff; and Dorcas's plans to prepare Minnie for marriage and motherhood backfire terribly.
How will harmony be restored? And what are the contents of the strange and wonderful parcel that arrives at the post office, which Minnie wants to keep a secret?
Last on
Credits
| Role | Contributor |
| --- | --- |
| Alf Arless | John Dagleish |
| Minnie | Ruby Bentall |
| Emma Timmins | Claudie Blakley |
| Robert Timmins | Brendan Coyle |
| Daniel Parish | Ben Aldridge |
| Queenie Turrill | Linda Bassett |
| Sydney | Edward Darnell-Hayes |
| Baby Annie | Lucy Dawson |
| Frank Timmins | Fergus Drysdale |
| Laura Timmins | Olivia Hallinan |
| Ruby Pratt | Victoria Hamilton |
| Thomas Brown | Mark Heap |
| Twister Turrill | Karl Johnson |
| Edmund Timmins | Thomas Rhys Jones |
| Margaret Brown | Sandy McDade |
| Sally Arless | Sophie Miles |
| Archie Arless | Harry Miles |
| Ethel Timmins | Martha Murdoch |
| Dorcas Lane | Julia Sawalha |
| Baby Patience | Caitlin Smith |
| Lizzie Arless | Hope Yeomans |
| Pearl Pratt | Matilda Ziegler |
| Producer | Ann Tricklebank |
| Director | Patrick Lau |
| Writer | Gaby Chiappe |
Buy online
Buy online
Available on: DVD, Blu-ray or Video download
From suppliers including: Amazon Video, BBC Store, iTunes