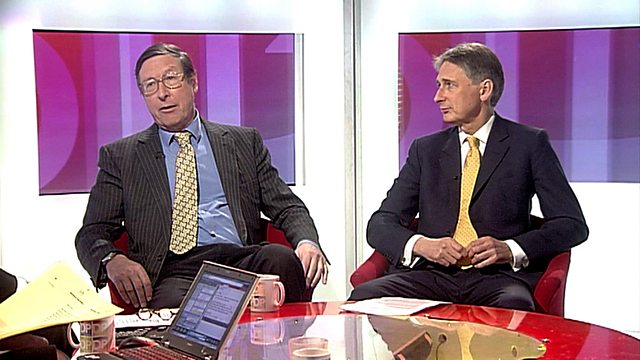 21/01/2010
Andrew Neil and Shelagh Fogarty have the top political stories of the day. Journalist and historian Max Hastings is in the studio to discuss whether the Government has cut back on counter-terrorism in Pakistan because of the pound's falling value. Foreign Office minister Glenys Kinnock has revealed that the Foreign Office's overseas budget has shrunk by 110 million pounds because of changes to the exchange rate.
Just how big are the upcoming public spending cuts? The man who chaired David Cameron's policy commission on tax says the Conservative leader will need to find 75 billion pounds in annual cuts by the end of the next parliament. A junior government Treasury minister tells MPs they don't realise just how painful the cuts planned by Labour are. The programme hopes to hear from Labour and the Conservatives.
What does the spending squeeze mean for Britain's defence? Could the RAF get the chop? The options facing ministers are detailed as the armed forces wait for the Strategic Defence Review.
Last on