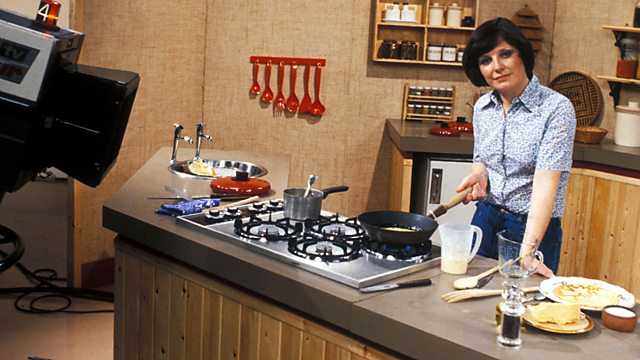 Delia Smith is a national treasure. In a career spanning five decades, she has ruled the roost as the queen of home cooking. This series celebrates Delia's career and the many ways she has shaped what people eat and how they cook it. Each episode is packed with archive footage, as Delia revisits her favourite recipes from each decade and recreates some with a contemporary twist.
The 1970s was a time of power cuts, picket lines, punks and pate. It was the decade Delia first came to the nation's attention. She started her first 'proper job' as a cookery writer for The Mirror Magazine, and it was here she met Michael, the man who would become her husband. When the magazine folded, she took on the challenge of devising six recipes each week for the London Evening Standard. She trusts her initiative once more to revisit a perennial favourite using the seasonal vegetables in her kitchen garden: a delicious red onion and parmesan salad with sage.
In 1973, Delia's friend and TV producer Frances Whitaker suggested her to the BBC, which was looking for a new face following years of Fanny Craddock. Delia was given her own series, Family Fare. Frances and Delia go back to the studio they broadcasted from and relive the nerves and near-misses. Delia and her mother rewatch the show, and Delia cooks one of her favourite candlelight dinner dishes from that series - pork chops braised with wild mushrooms. She originally made it with cream and button mushrooms, but here updates it with creme fraiche and porcini.
During the 1970s Delia published four books. She selects her top recipe from that time - a coffee and walnut cake - to bake again. Sir David Attenborough, who helped Delia get her next project onto the BBC, Delia Smith's Cookery Course, offers a few words.
Last on