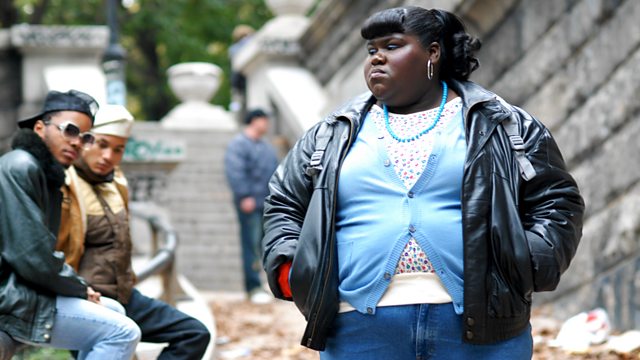 30/01/2010
Listen in pop-out player
Tom Sutcliffe is joined by comedian Natalie Haynes and writers Dreda Say Mitchell and Adam Mars Jones to review the cultural highlights of the week.
Precious, the title of Lee Daniels' film, is also the name of its central character (played by newcomer Gabourey Sidibe), an obese, functionally illiterate, sullen and friendless teenager, growing up in late-1980s Harlem. Pregnant for the second time by her largely absent father, her life is also blighted by her monstrously abusive mother (Mo'Nique). However, a chink of light appears at the end of this very dark tunnel when she enrolls at an alternative school.
Peter Carey's latest novel, Parrot and Olivier in America, is loosely based on the life of Alexis de Tocqueville, author of Democracy in America. The de Tocqueville character, Olivier de Garmont, is a young French aristocrat who finds himself in a dangerous position after the overthrow of the Bourbon monarchy in 1830. With English engraver Parrot (who has been forced to flee his own country) engaged as his servant, de Garmont is dispatched to America, ostensibly to conduct a survey of the penal system there. But their attitudes to the burgeoning democracy they find there differ considerably.
Chekhov's Three Sisters is a play which is invariably performed in period costume, evoking the world in which it is set: a world of birch woods, babushkas and provincial ennui. However, Sean Holmes' production of the play at the Lyric Hammermith in London, in collaboration with the Filter theatre company, seeks to shake things up a bit with modern costume and the innovative sound design which is one of Filter's trademarks. The play itself is not tinkered with, though, and Christopher Hampton's version still finds the three sisters, Masha (Romola Garai), Olga (Poppy Miller) and Irina (Clare Dunne), stuck in a small garrison town with their frustrations and longings.
Chris Ofili is probably still best known for his use of elephant dung both in his paintings and as a means of propping them up, despite the fact that it hasn't featured in his work since 2003. The mid-career retrospective at Tate Britain brings together his vivid early paintings, featuring elements of collage, and the later, more restrained work which he has produced since moving to Trinidad in 2005. This is the most comprehensive exhibition of Ofili's work to date and features over 40 paintings as well as pencil drawings and watercolours.
Mo Mowlam was that rare creature - a genuinely popular politician. Julie Walters stars in the Channel 4 drama, Mo, which follows Mowlam through her final illness. Diagnosed with a terminal brain tumour prior to Labour's election victory in 1997, she concealed the gravity of her condition from the outside world, including Tony Blair, and as secretary of state for Northern Ireland, successfully battled to bring the Good Friday agreement into existence. The drama is partly about the peace process, but mainly about Mo's illness and her determination for it not to stand in the way of her finishing what she'd started.
Last on