Add music you love and enjoy it with
Ray Charles - The Collection, Castle Communications

Pilot

Magic

25 Years Of Rock'n'Roll Vol.2 (1974), Connoisseur Collection

U2

Mysterious Ways

(CD Single), Island

A Place To Land, Humphead Records, 1

MOIRA'S GOLDEN OLDIE

Heartbeat - Forever Yours, Sony

The Love Songs Album (Various), Universal

Looking Back - The Best Of Hall & Oat, BMG

Now 1991 - The Millennium Series, Now

Stevie Wonder - Song Review, Motown

Dean Martin

Ain't That A Kick In The Head

The Best Of Cult Fiction (Various), Virgin

Mika

Blame It On The Girls

(CD Single)

James Brown

Papa's Got A Brand New Bag

Originals 2 (Various Artists), Columbia

GOBSMACKER #1

The All Time Greatest Rock Songs ..., Columbia

GOBSMACKER #2

Wah!

The Story Of The Blues (Part 1)

(CD Single), When!

Nell Bryden

Nell Bryden - Not Like Loving You

(CD Single), Cooking Vinyl, 1

The Faces

Stay With Me

Glam Crazee - Various Artists, Virgin

The Monkees

Last Train To Clarksville

Delilah - Jukebox 60's Hits, Old Gold, 2

25 Years Of No.1 Hits (Various), Connoisseur
If You Find Someone Willing To Whack Your Weeds, That's The Person Most Likely To Give You Roses

Today's show was dedicated to anyone who's been using the wrong word for something for years

Today's Show Starred:

Barry Jones from the West Midlands who retired after forty-eight years

Eleanor Wood from Berkshire who's Year Five class embarked on their first residential trip

Rob Burns from Chorley who turned sixty-five

Harry Jones from York who didn't go to his rugby try-outs

Maddie Lowe from Oxted who took her coin collection in to show her teacher

Dottie from East Yorkshire who chose today's Golden Oldie

Mark Bent and his colleague Mike who made today's Mega-Phone-Call

Mike Forster who is the organiser of the World Worm Charming Championships

Cath Blackler from Worcester who picked today's Gobsmackers

Reverend Ruth Scott who helped us Pause For Thought

Denis Bridlegate from Southampton who said "Heeello"

Mark Davies from Pontypridd who said "Howdy Doody"

Janet Turner from Preston who said "Herrroooo"

Pause for Thought

From Rev'd Ruth Scott, an Anglican Vicar in Richmond

Chris, I need your assistance this morning. I want you to memorise all the black things in this studio. Don't say what they are yet. Just make a mental note of them. Now close your eyes. Without opening them, tell me everything in the room that's…yellow. If you're like everyone else who's done this before you, you'll have been so focussed on finding and remembering the black things I called to your attention, you won't have noticed or registered the yellow items, even though they exist. This simple exercise illustrates something important about human perception.

From the moment we're born key people and experiences focus our attention in a particular direction. Our picture of the world is shaped by those influences, and though there are other ways of seeing and behaving, believing and learning, we may not notice them because we've been taught to register some things rather than others. Sometimes when people argue about the nature of reality, they're just registering different bits of it. If our experience is limited, and we always stick with people who see the world as we do, then our blindness can go unrecognised or remain unchallenged. How many conflicts are caused by people looking at a problem from only one angle, believing they have the whole picture and becoming entrenched in that position. Not helpful! That's why I'm glad of wise companions throughout my own life who've constantly encouraged me to test out my perceptions in ever wider and often unfamiliar contexts. Does my viewpoint on faith, for example, still hold true when I look at it through the lenses of other faiths or the insights of science or psychology? I've noticed that some of the most life-giving, albeit uncomfortable questions I've been asked have come from people who don't share the same outlook as me. It seems that to be people of vision, Chris, the crucial thing is to be open first to the fact we have plenty of blind-spots.
BBC Playlister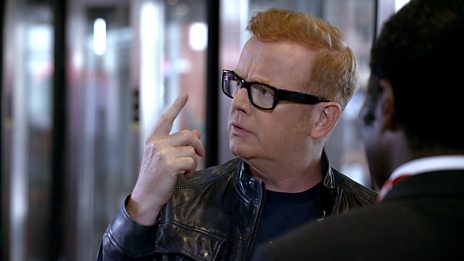 Chris has a song stuck in his head - but what is it? That's why he needs BBC Playlister!
500 WORDS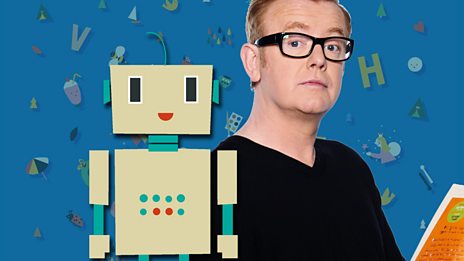 Featuring celebrity videos and top writing tips!
Podcast
Catch up with the latest Breakfast fun with Chris Evans. Hear the best stories and the biggest…