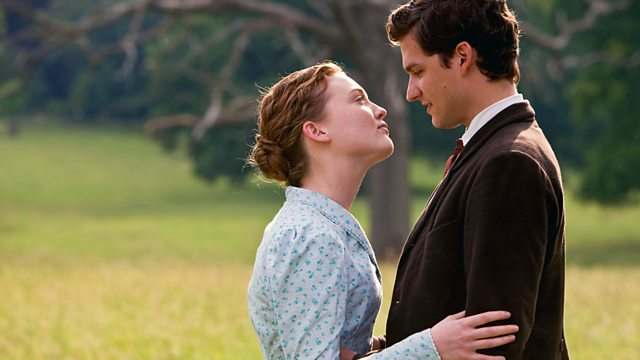 The Bishop is coming to consecrate the church font and Thomas cannot contain his excitement. But when a Lark Rise tree starts to 'bleed', the hamlet becomes rife with talk of witchcraft. Thomas is horrified - this could ruin the Bishop's visit!
The 'witch tree' seems to cast a spell over the whole community - everyone is behaving strangely. Even Dorcas loses her composure and makes a blunder with terrible consequences for Pearl and Ruby. Laura, too, is thrown off balance when Daniel returns to try and win back her affections - but first he has to get around an angry Robert and Emma.
Thomas is determined to restore order. But how will he undo the tree's awful curse?
Last on
Credits
| Role | Contributor |
| --- | --- |
| Daniel Parish | Ben Aldridge |
| Queenie Turrill | Linda Bassett |
| Minnie | Ruby Bentall |
| Emma Timmins | Claudie Blakley |
| Robert Timmins | Brendan Coyle |
| Sydney | Edward Darnell-Hayes |
| Baby Annie | Lucy Dawson |
| Frank Timmins | Fergus Drysdale |
| Laura Timmins | Olivia Hallinan |
| Ruby Pratt | Victoria Hamilton |
| Thomas Brown | Mark Heap |
| Twister Turrill | Karl Johnson |
| Edmund Timmins | Thomas Rhys Jones |
| Margaret Brown | Sandy McDade |
| Sally Arless | Sophie Miles |
| Archie Arless | Harry Miles |
| Ethel Timmins | Martha Murdoch |
| Dorcas Lane | Julia Sawalha |
| Lizzie Arless | Hope Yeomans |
| Pearl Pratt | Matilda Ziegler |
| Producer | Ann Tricklebank |
| Director | David Tucker |
| Writer | Bill Gallagher |
Buy online
Buy online
Available on: DVD, Blu-ray or Video download
From suppliers including: BBC Shop, iTunes