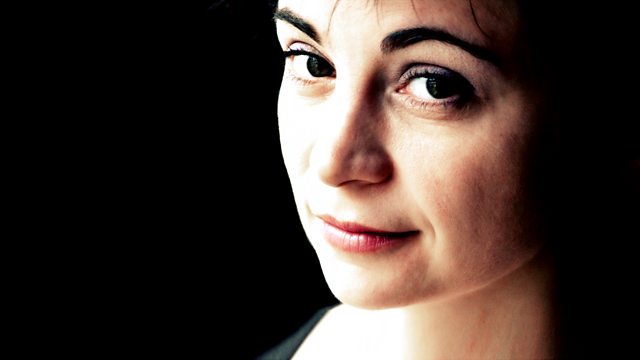 Mary Ann Kennedy live from the Late Night Sessions at the world's biggest winter music festival, Celtic Connections in Glasgow. The Sessions run from very late until very early, with line-ups that are traditionally never divulged before the day.
For seventeen years, Celtic Connections has brought musicians not only from across Scotland but from across the world in a festival that celebrates connections between cultures. The Celtic world is at the heart of the Festival, with performances from leading Scottish folk musicians, plus artists from Ireland, France and Spain, as well as from across the Atlantic. And again, the Festival makes connections further afield with musicians from Africa and the Arab world.
This is the second of two live broadcasts from the Late Night Sessions.
World on 3
Presented by Mary Ann Kennedy
Produced by Helene Frisby
Tel 020 7765 4661
Fax 020 7765 5052
e-mail worldon3@bbc.co.uk
Friday 29th January
Celtic Connections
Breabach
Patsy Reid (5-string Fiddle/vocals)
Donal Brown (pipes/flutes/stepdance)
Calum MacCrimmon (pipes/vocals)
Ewan Robertson (guitar/vocals)
James Lindsay (Bass)
Good Drying
Breabach
Live performance broadcast from the Glasgow Royal Concert Halls, January 2010
Greenfields
Breabach
Live performance broadcast from the Glasgow Royal Concert Halls, January 2010
Cluless
Breabach
Live performance broadcast from the Glasgow Royal Concert Halls, January 2010
Montcalm
Le Vent Du Nord
Album: La Part Du Feu
Borealis Records BCD199
In Transition
Kalahari Surfers
Album: One Party State
Microdot MDCD015
Your Funeral My Trial
Sonny Boy Williamson
Album: Murder - Songs from the Dark Side Of The Soul
Trikont 0399
Deolinda
Ana Bacalhau (vocals)
Luís Martins (guitar)
José Pedro Leitão (dble bass/vocals)
Pedro Martins (guitar/vocals)
Fado Toninho
Deolinda
Live performance broadcast from the Glasgow Royal Concert Halls, January 2010
Fon-Fon-Fon
Deolinda
Live performance broadcast from the Glasgow Royal Concert Halls, January 2010
Não Sei Falar De Amor
Deolinda
Live performance broadcast from the Glasgow Royal Concert Halls, January 2010
O Fado Não É Mau
Deolinda
Live performance broadcast from the Glasgow Royal Concert Halls, January 2010
Gabriel Chiau: You Don't Care About Me (Mine A Uni Tendere)
Tony Paco
Album: Marrabenta Music from Mozambique
ARC EUCD 2250
Dil dil se millakar dekho (Let our hearts meet)
Asha Bosle
Album: The Very best of Asha Bhosle. The Playback Queen
Nascente NSDCD015
Si Tsaros
Dietrich
Album: Evok
Home Records 4446052
Tim and Mollie O'Brien
Tim O'Brien (guitar/bouzouki/vocals)
Mollie O'Brien (vocals)
Dan Tymanski (vocals)
Sara Watkins (fiddles)
Jerry Douglas (dobro)
O'Brien: Orphan Girl
Tim & Mollie O'Brien & guests
Live performance broadcast from the Glasgow Royal Concert Halls, January 2010
Trad, Arr. O'Brien: Sweet Sunny South
Tim & Mollie O'Brien & guests
Live performance broadcast from the Glasgow Royal Concert Halls, January 2010
John Somerville: Ben Williams of Tiree
Adam Sutherland: Portch of Avernish
Innes Watson: Phit Dae a Dae
Brendan Ring: Maverick Angels
Treacherous Orchestra
Recorded at the Glasgow Royal Concert Halls, January 2010
Valkyrian Allstars
Tuva Syvertsen (vocals/hardanger)
Ola Hilmen (vocals/hardanger fiddle)
Erik Sollid (vocals/hardanger fiddle)
Martin Langlie (drums/vocals/zither)
Magnus Larsen (double bass/triangle)
Trad/Webster Lewis and the Post-pop Space-Rock Bee Bop Gospel Tabernacle Chorus and Orchestra: Kåfjell (it's your thing
Valkyrien Allstars
Live performance broadcast from the Glasgow Royal Concert Halls, January 2010
I wish you'd tied me up
Valkyrien Allstars
Live performance broadcast from the Glasgow Royal Concert Halls, January 2010
Unknown
Valkyrien Allstars
Live performance broadcast from the Glasgow Royal Concert Halls, January 2010
Last on
More episodes
Next
You are at the last episode
Seven pioneering figures in world music
BBC Introducing on World on 3