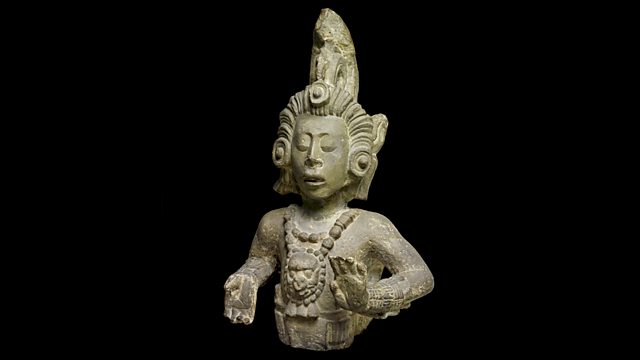 Maya Maize God Statue
Listen in pop-out player
The Director of the British Museum, Neil MacGregor, retells the history of human development from the first stone axe to the credit card, using 100 selected objects from the Museum.
Neil focuses on the world of the Mayan civilisation and a stone Maize God, discovered on the site of a major Mayan city in present-day Honduras. This large statue is wearing a headdress in the shape of a giant corn cob.
Maize was not only worshipped at that time but the Maya also believed that all their ancestors were descended from maize. Neil reveals why maize, which is notoriously difficult to refine for human consumption, became so important to the emerging agriculture of the region.
Neil is joined by the anthropologist Professor John Staller and the restaurateur Santiago Calva, who explain the complexity of Mayan mythological belief and the ongoing power of maize in Central America today.
Producer: Anthony Denselow.
Last on