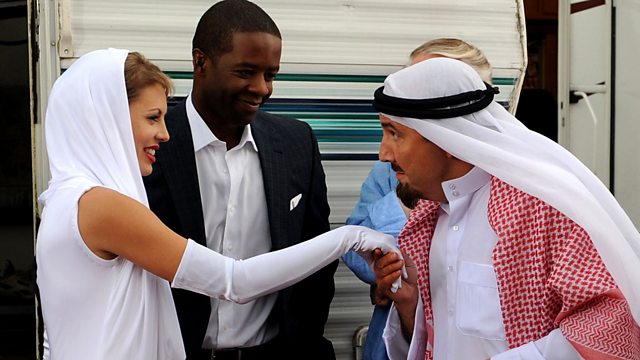 The Hustle gang are back in business, ready to take each and every cheat, liar or criminal for all they've got. From MPs' expenses to fat-cat bankers, there are plenty of marks for the team to target.
Just as the team are finishing with one genius con where Emma is posing as pop princess Kylie, Albert is out finding and priming the next unsuspecting mark - ex-banker Piggy Richardson who has been hounded by the press after a very public pension scandal. When Albert introduces himself as a head hunter for the Western Bank of California and paints a very pleasant picture of what his new life could be like, away from the glare of the media, Piggy is keen to meet Mickey - a currency specialist with a PHD in economics.
However, just as the plan starts to fall into place, a mysterious woman enquires about Mickey's whereabouts and throws their plan into disarray. Mickey hasn't got a clue who she is or what she wants but when she invites him out for dinner, he's intrigued. That is until the mystery lady turns out to be the beautiful, DCI Lucy Britford. She has a 95% conviction rate and is well aware of what Mickey and the crew are up to and catching Mickey would be the ultimate scalp and a great stepping stone in her career. Emma is the only one who seems worried, but is this jealousy due to another woman getting Mickey's attention, or genuine concern?
Never one to shy away from a challenge, Mickey is certain that he can outsmart Britford, after all, no one's managed to catch him yet! So with the agreement of the team he decides to continue with the con. Mickey's confidence has so far served the team well, but will his arrogance be the undoing of the con and his crew?
Last on
More episodes
Previous
You are at the first episode