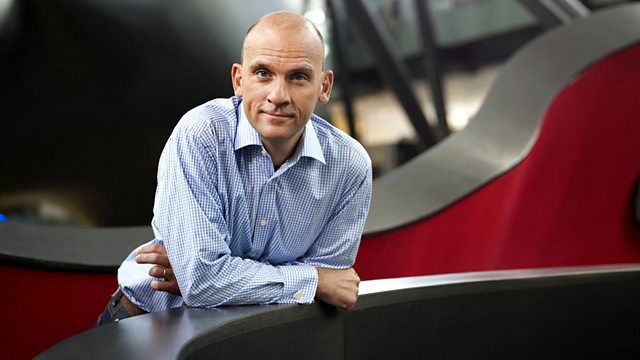 Mark Lockheart's In Deep
Jez Nelson presents an exclusive session by saxophonist and composer Mark Lockheart with his 'In Deep' quintet. Featuring the cream of British jazz including Tom Arthurs on trumpet, pianist Liam Noble, bassist Jasper Hoiby and Dave Smith on drums. Expect ingenious lyricism and rhythms, masterful musicianship and inventive compositions from a man who's become well known for his evolutionary approach to making music.
Mark's latest project follows a long line of adventurous musical endeavors that he's undertaken since he first appeared in the seminal 1980's band Loose Tubes. From being a member of Perfect Houseplants to young outfit Polar Bear, Mark's contributions to British jazz span three decades. His latest incarnation 'In Deep' allows each member to shine yet retains a deep sense of cohesion and harmony.
Follow Jez Nelson and the Jazz On 3 team on twitter:
http://twitter.com/jeznelson
http://twitter.com/r3jazzon3
See photos from Jazz on 3 recordings:
http://www.flickr.com/photos/jazzon3
Extract from 'Undercovers' by Mark Lockheart's In Deep (details below)
Jez is joined by the Guardian's jazz critic John Fordham
CD tracks:
Artist: Julien Lourau
Track title: Diaspora
Album title: Quartet Saigon
Label: Naive
Released: 31 December 2009
Julien Lourau's Quartet Saigon perform at the Vortex Jazz Club in London on the 8th and 9th February 2010.
Artist: Jason Yarde/Andrew McCormack
Track title: Something's Coming
Album title: My Duo
Label: Joy and Ears
Released: 24 December 2009
Artist: Jason Yarde/Andrew McCormack
Track title: Coda
Album title: My Duo
Label: Joy and Ears
Released: 24 December 2009
Artist: Heinz Sauer with Michael Wollny and Joachim Kuhn on piano
Track title: All Blues
Album title: If (Blue) Then (Blue)
Label: ACT
Released: 11 January 2010
Artist: The Necks
Track title: Silverwater
Album title: Silverwater
Label: ReR
Released: November 2009
Artist: DECOY (Alexander Hawkins - Hammond C3 Organ, John Edwards - double bass, Steve Noble - drums/cymbals)
Track title: Crossroad
Album title: Vol. 2: The Deep
Label: Bo'Weavil
Released: 7 December 2009
Tony Dudley Evans, Artistic Director of Birmingham Jazz speaks to Jez about two new festivals in the city and introduces the Sam Wooster Quartet
Harmonic Festival 12-13 March 2010 at the CBSO Symphony Hall
www.harmonicfestival.co.uk
Mostly Jazz festival 3-4 July 2010 at Mosely Park, Birmingham
www.mostlyjazz.co.uk
Artist: Sam Wooster Quartet
Track title: La Nuit Du Jour
Album title: [cap-a-tan]
Label: self released
Released: May 2009
Artist: Anouar Brahem
Track title: Stopover at Djibouti
Album title: The Astounding Eyes of Rita
Label: ECM
Released: 28 September 2009
Jez and John Fordham discuss Mark Lockheart's career and the session recorded exclusively for Jazz on 3
Mark Lockheart's In Deep group in session, recorded at Phoenix Sound Studios on 15 December 2009
Line up:
Mark Lockheart - tenor and soprano saxophones
Tom Arthurs - trumpet
Liam Noble - piano
Jasper Hoiby - bass
Dave Smith - drums
Set list:
Long Way Gone
Undercovers
Not In My Name
Believe It Or Not
Surfacing
All tracks composed by Mark Lockheart
Recommended further listening:
Artist: Mark Lockheart and the NDR Big Band
Album title: Days Like These
Label: Fuzzy Moon
Released: February 2010
Artist: Mark Lockheart
Album title: In Deep
Label: Edition
Released: May 2009.
Last on