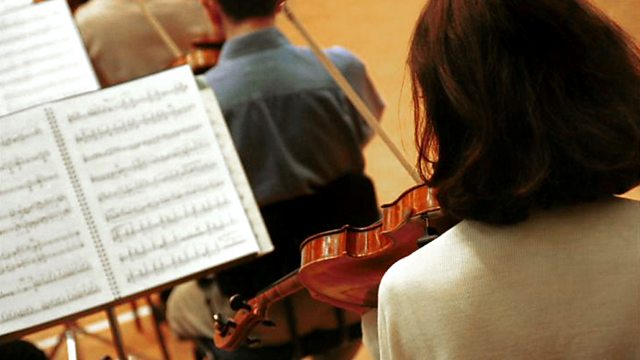 BBC SO/Knussen
Presented by Petroc Trelawny
Oliver Knussen conducts the BBC Symphony Orchestra in music by Hans Werner Henze, from the Total Immersion event held last weekend at the Barbican Hall, London.
Art banned by the Nazis somehow reached young Hans Werner Henze as he grew up in a small German village during the 1930s. It fuelled his desire to become a musician and shaped his worldview. "Everything that the fascists persecute and hate is beautiful to me," he later recalled. An astonishingly prolific and influential composer, Henze's work includes over 30 operas and ballet scores and 10 symphonies.
Extremes of emotion meet in his Fourth Symphony, written for large orchestra in 1955. The 'air for orchestra', Fraternité, was described following its world premiere in 1999 as 'a restless search for lasting harmony'. Elogium Musicum, first heard in Leipzig in 2008, is the octogenarian composer's serene, profoundly moving and consoling 'obituary' for his companion of over 40 years.
Hans Werner Henze
Fraternité
Symphony No. 4
Elogium musicum (UK premiere)
BBC Symphony Chorus
BBC Symphony Orchestra
Oliver Knussen conductor
Followed by Part 1 of a celebratory concert with the Ulster Orchestra from the Waterfront Hall, Belfast, in which Seamus Heaney and Michael Longley read their poetry.
Ulster Orchestra
Proinnsias O'Duinn (conductor)
Schubert: Rosamunde entr'acte, Act II
Michael Longley: Readings for Peter Longley
Seamus Heaney: Personal Helicon
Bach: Sheep May Safely Graze
Seamus Heaney: The Penninsula
Michael Longley: Spring Tide
Tchaikovsky: Serenade for Strings (Waltz)
Duparc: L'invitation au voyage
Bernadette Greevy (mezzo-soprano)
Ulster Orchestra
Yan Pascal Tortelier (conductor)
CHAN8735 Tr 9
Last on