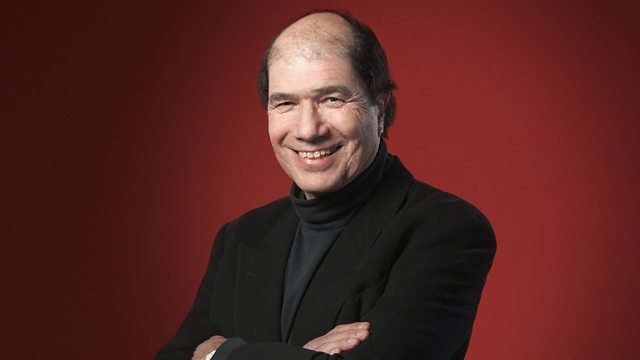 Philip Campbell
Michael Berkeley's guest is scientist Philip Campbell, editor-in-chief of the scientific journal Nature. Music has always been important to him, and his choices range from Byrd and Bach to Debussy, Schoenberg, Messiaen and Tippett as well as Gershwin and Led Zeppelin.
M Berkeley The Wakeful Poet (Music from Chaucer) (pub OUP)
Beaux-Arts Brass Quintet
BBQ BBQ 003 Track 10
Dur: 25s
Byrd: Agnus dei (Mass in four parts)
Choir of Christchurch Cathedral, Oxford
Simon Preston (conductor)
Byrd LP: ARGO ZRG 858 S2
Dur: 4m40s
Bach Goldberg Variations (Variations 20 and 21)
Murray Perahia (piano)
Bach SONY CLASSICAL SK 89243 Tracks T21-22
Dur: 4m13s
Schoenberg: Peripetia (Five pieces for orchestra, Op 16)
Chicago Symphony Orchestra
Daniel Barenboim (conductor)
Schoenberg TELDEC 4509-98256-2 Track 12
Dur: 2m00s
Debussy: Etude pour les quartes
Mitsuko Uchida (piano)
Debussy PHILIPS 464 698-2 Track 3
Dur: 5m30s
Gershwin: They can't take that away from me
Ella Fitzgerald and Louis Armstrong
Oscar Peterson (piano)
Herb Ellis (guitar)
Ray Brown (bass)
Buddy Rich (drums)
Ella Fitzgerald VERVE 0654842 CD2 Track 3
Dur: 3m00s
Messiaen: Transports de joie (l'Ascension)
Gillian Weir (the organ of Arhus Cathedral, Denmark)
Messiaen COLLINS CLASSICS 70312 CD5 Track 3
Dur: 4m20s
Tippett: Ritual dances (The Midsummer Marriage: prelude and first transformation)
BBC National Orchestra of Wales
Richard Hickox (conductor)
Tippett CHANDOS CHSA 5039 Tracks 13-15
Dur: 4m26s
Led Zeppelin: Good Times, Bad Times
Led Zeppelin ATLANTIC 7567-83268-2 Track 1
Dur: 2m45s
Jonathan Harvey: Ashes Dance Back
Latvian Radio Choir
James Wood (conductor)
Latvian Radio recording, used with permission
Dur: 5m20s.
Last on
Archive Unlocked: Two Decades of Private Passions