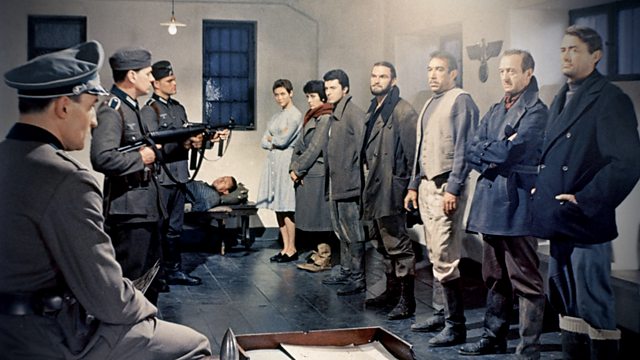 The Guns of Navarone
Explosive World War II action yarn in which a group of crack commandos are assembled for an apparently impossible mission.
The team, made up of Allied and Greek soldiers with specialist talents, attempt to destroy the seemingly impregnable German artillery units on the Greek island of Navarone and in turn free 2,000 British soldiers on Kiros, an island in the Aegean.
A crew of commandos is dropped behind enemy lines in an attempt to blow up a bridge.
Credits
| Role | Contributor |
| --- | --- |
| Captain Keith Mallory | Gregory Peck |
| Cpl Miller | David Niven |
| Pte 'Butcher' Brown | Stanley Baker |
| Col Andrea Stavros | Anthony Quinn |
| Maj Roy Franklin | Anthony Quayle |
| Pte Spyros Pappadimos | James Darren |
| Maria Pappadimos | Irene Papas |
| Anna | Gia Scala |
| Commodore Jensen/Prologue Narrator | James Robertson Justice |
| Squadron Leader Howard Barnsby RAAF | Richard Harris |
| Cohn | Bryan Forbes |
| Maj Baker | Allan Cuthbertson |
| Director | J Lee Thompson |
| Producer | Carl Foreman |
| Writer | Carl Foreman |
| Author | Alistair MacLean |