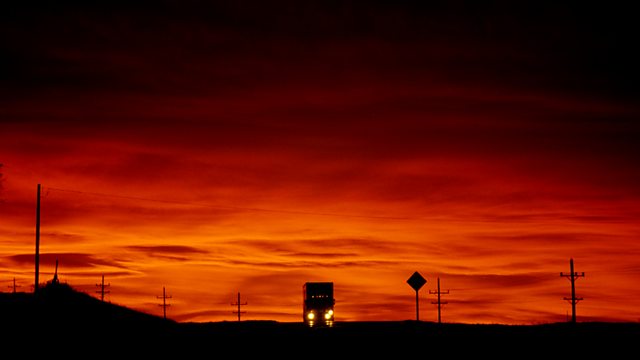 08/01/2010
Presented by John Shea.
1.00am
Grieg, Edvard (1843-1907): Peer Gynt Suite No 2, Op 55
Danish National Radio Symphony Orchestra
Michael Schonwandt (conductor)
1.20am
Tchaikovsky, Pyotr Il'yich (1840-1893): Francesca da Rimini, Op 32 - symphonic fantasia after Dante
Orchestre du Conservatoire de Musique du Quebec
Raffi Armenian (conductor)
1.44am
Smetana, Bedrich (1824-1884): String Quartet No 1 in E minor (From My Life)
Vertavo Quartet
2.14am
Brahms, Johannes (1833-1897): Symphony No 1 in C minor, Op 68
Swedish Radio Symphony Orchestra
Esa-Pekka Salonen (conductor)
3.01am
Grainger, Percy (1882-1961): Colonial Song
Symphony Nova Scotia
Georg Tintner (conductor)
3.08am
Elgar, Edward (1857-1934), arr. David Passmore: Salut d'amour
Moshe Hammer (violin)
Tsuyoshi Tsutsumi (cello)
William Tritt (piano)
3.11am
Kerle, Jacobus de (1531/2-1591): Agnus Dei - super ut-re-mi-fa-so-la
3.16am
Desprez, Josquin (ca.1440-1521): Absolve, quaesumus, Domine/Requiem aeternam
3.20am
Rore, Cipriano de (1515/16-1565): O socii neque enim/Durate (1566)
Huelgas Ensemble
Paul Van Nevel (conductor)
3.25am
Purcell, Henry (1659-1695): Pavane in G minor, Z752; Chaconne (Chacony) in G minor, Z730
London Baroque
3.34am
Mozart, Wolfgang Amadeus (1756-1791): Concerto No 24 in C minor for piano and orchestra, K491
Oslo Philharmonic
Andre Previn (piano/conductor)
4.06am
Faure, Gabriel (1845-1924): Clair de lune
Karina Gauvin (soprano)
Marc-Andre Hamelin (piano)
4.09am
Grainger, Percy (1882-1961): Apres un reve (after Faure)
Leslie Howard (piano)
4.13am
Buxtehude, Dietrich (1637-1707): Prelude and Fugue in G minor
Mario Penzar (on the organ from 1649, at the Church of the Immaculate Conception of the Blessed Virgin Mary, Lepoglava)
4.21am
Ravel, Maurice (1875-1937): Berceuse sur le nom de Gabriel Faure
James Ehnes (violin)
Wendy Chen (piano)
4.24am
Kreisler, Fritz (1875-1962): Berceuse romantique, Op 9 - for violin and piano
Patrik Ringborg (violin)
Anders Kilstrom (piano)
4.29am
Debussy, Claude (1862-1918): Prelude a l'apres-midi d'un faune
BBC National Orchestra of Wales
Thierry Fischer (conductor)
4.42am
Gounod, Charles (1818-1893): Waltz (Faust)
Danish Radio Concert Orchestra
Borge Wagner (conductor)
4.47am
Tchaikovsky, Pyotr Il'yich (1840-1893): Waltz (Sleeping Beauty)
Edmonton Symphony Orchestra
Uri Mayer (conductor)
4.52am
Telemann, Georg Philipp (1681-1767): Overture (Tafelmusik)
Crispian Steele-Perkins (trumpet)
Frank de Bruine (oboe)
The King's Consort
Robert King (director)
5.01am
Bach, Johann Sebastian (1685-1750): Little preludes for keyboard, BWV939-42
Christophe Bossert (organ, St Martin's Church, Varazdinske Toplice)
5.05am
Bach, Johann Christian (1735-1782): Symphony in A
Sofia Soloists Chamber Ensemble
Plamen Djurov (conductor)
5.22am
Prokofiev, Sergey (1891-1953): Symphony No 1 in D, Op 25 (Classical)
Norwegian Radio Orchestra
Michel Tabachnik (conductor)
5.37am
Mozart, Wolfgang Amadeus (1756-1791): Symphony No 5 in B flat, K22
Netherlands Radio Chamber Orchestra
Ernest Bour (conductor)
5.45am
Liszt, Franz (1811-1886): Hungarian Rhapsody No 2 in C sharp minor, S244
Ladislav Fantzowitz (piano)
5.55am
Sibelius, Jean (1865-1957): Tapiola, Op 112 (1926) - symphonic poem
BBC Scottish Symphony Orchestra
Ilan Volkov (conductor)
6.10am
Vivaldi, Antonio (1678-1741): Concerto in D minor, Op 3 No 11 (L'Estro Armonico)
Tafelmusik
Jeanne Lamon (conductor)
6.20am
Rubio, Jesus Gonzalez (d.1874): Jarabe Tapatio (Mexican hat dance)
Giuliano Sommerhalder (trumpet)
Roberto Arosio (piano)
6.25am
Mendez, Rafael (1906-1981): Mendez Csardas
Giuliano Sommerhalder (trumpet)
Eniko Bors (piano)
6.29am
Obradors, Fernando (1897-1945): El vito; Al amor; Corazon, por que pasais?; La mi sola, Laureola; Del cabello mas sutil; Chiquita la novia (Canciones clasicas espanolas)
Isabel Bayrakdarian (soprano)
James Parker (piano)
6.43am
Mozart, Wolfgang Amadeus (1756-1791): Serenade in G, K525 (Eine Kleine Nachtmusik)
Romanian National Radio Orchestra
Iosif Conta (conductor).
Last on