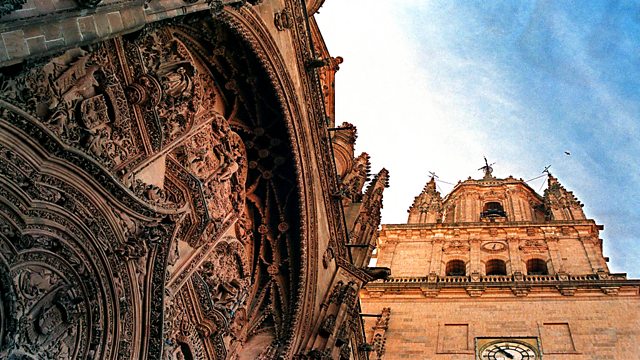 Donald Macleod explores the little-known music of 17th and 18th-century Spain.
The Italian invention of opera was rapidly taking Europe by storm but Madrid failed to be charmed by its new-fangled recitatives and arias. Donald considers how composers at the Spanish court looked for their own way of bringing music into the theatre.
Jose Marin: Ojos, pues me desdenais
Ensemble La Romanesca
Jose Miguel Moreno
Glossa GCD 920201 Tr 5
Jose Marin: Aquella sierra Nevada
Francisco Guerau: Marionas
Jose Marin: No piense Menguilla
Ensemble La Romanesca
Jose Miguel Moreno (director)
Glossa GCD 920201 Trs 12, 15 and 14
Juan Hidalgo: Ay amor, ay ausencia
Marta Almajano (soprano)
Juan Carlos Rivera (archlute)
Mike Fentross (baroque guitar)
Ventura Rico (viola da gamba)
Harmonia Mundi HMI987028 Tr 6
Anon/Guerau: Suite
Extempore String Ensemble
Helios CDH55098 Tr 4
Antonio de Literes: Acis y Galatea (excerpt)
Acis ...... Lola Casariego (mezzo-soprano)
Galatea ...... Marta Almajano (soprano)
Glauco ...... Xenia Meijer (mezzo-soprano)
Nereida ...... Maria Luz Alvares (soprano)
Tisbe ...... Marina Pardo (mezzo)
Momo ...... Jordi Ricart (baritone)
Al Ayre Espanol
Eduardo Lopez Banzo (director)
Deutsche Harmonia Mundi 05472775222 Trs 16-25.
Last on