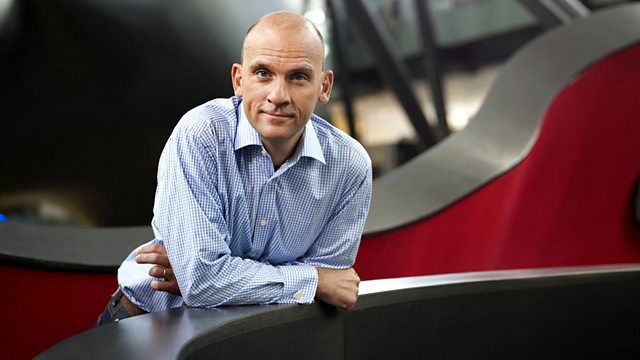 Best of British Jazz at Ronnie Scott's
This programme was recorded earlier in the evening at Ronnie Scott's Jazz Club.
Follow Jez Nelson and the Jazz On 3 team on twitter:
http://twitter.com/jeznelson
http://twitter.com/r3jazzon3
See photos from the show online:
http://www.flickr.com/photos/jazzon3
Kenny Wheeler Quintet
Line up:
Kenny Wheeler (trumpet)
Stan Sulzmann (saxophones)
John Parricelli (guitar)
Chris Laurence (bass)
Martin France (drums)
Track list:
Jigsaw (Kenny Wheeler)
Ballard 130 (Kenny Wheeler)
Everybody's Song But My Own (Kenny Wheeler)
Kenny Wheeler celebrates his 80th birthday on 14th January 2010 with a special gala concert at London's Royal Academy of Music.
www.ram.ac.uk
Troyka
Line up:
Chris Montague (guitar)
Kit Downes (organ)
Joshua Blackmore (drums)
Track list:
Born in the 80s (Chris Montague)
Noonian Soong (Chris Montague)
Troyka forthcoming 2010 live dates:
11 Feb - Band on the Wall, Manchester
12 Feb - Buddah Bar, Derby
Cleveland Watkiss Trio
Line up:
Cleveland Watkiss (vocals and electronics)
Winston Clifford (drums)
Mark Hodgson (bass)
Track list:
Supercapitalism (Wynton Marsalis)
Dear Mr Kahn (Cleveland Watkiss)
Sicellienne (Gabriel Faure)
Free (Stevie Wonder)
Cleveland Watkiss Trio forthcoming 2010 live dates:
7 Feb - Southport Jazz Festival
16 Feb - Ronnie Scott's, London
Tom Arthurs and Richard Fairhurst perform at Ronnie Scott's
Line up:
Tom Arthurs (trumpet)
Richard Fairhurst (piano)
Track list:
Warbler (Richard Fairhurst)
Forthcoming 2010 live dates:
7 Feb - Tom Arthurs and Richard Fairhust's Postcard from Pushkin @ Uppingham School, Leicestershire
Django Bates' Human Chain
Line up:
Django Bates (keyboards and Eb tenor horn)
Marius Neset (soprano and tenor saxophone)
Michael Mondesir (bass guitar)
Martin France (wooden drums and electronic percussion)
Track list:
And a Golden Pear (Django Bates)
Three Architects Called Gabrielle, Just what I Expected (Django Bates).
Last on