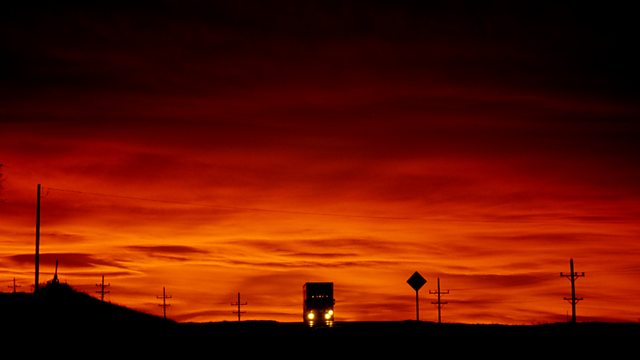 01/01/2010
Presented by Jonathan Swain.
Including:
1.00am
Mendelssohn, Felix (1809-1847): The Hebrides, Op 26
Oslo Philharmonic
Arvid Engegard (conductor)
1.12am
Schubert, Franz (1797-1828), arr. Mottl, Felix (1856-1911): Fantasia in F minor, D940 - originally for four hands
Oslo Philharmonic
Gennady Rozhdestvensky (conductor)
1.32am
Mendelssohn, Felix (1809-1847): Symphony No 4 in A (Italian)
Oslo Philharmonic
Nello Santi (conductor)
2.02am
Cambini, Giuseppe Maria (1746-1825): Trio for flute, oboe and bassoon, Op 45 No 1
Vladislav Brunner (flute)
Jozef Hanusovsky (oboe)
Jozef Martinkovic (bassoon)
2.15am
Bruch, Max (1838-1920): Fantasy for violin and orchestra with harp, Freely Using Scottish Folk Melodies, Op 46
James Ehnes (violin)
Orchestre Symphonique de Montreal
Mario Bernardi (conductor)
2.46am
Krupowicz, Stanislaw (b.1952): Miserere
Camerata Silesia
Anna Szostak (conductor)
3.01am
Schumann, Robert (1810-1856): Gesange der Fruhe (Chants de l'aube, Op 133) - five pieces for piano dedicated to the poet Bettina Brentano
Sylviane Deferne (piano)
3.15am
Handel, George Friedrich (1685-1759): Gentle Morpheus, son of night (Alceste)
Emma Kirkby (soprano)
Academy of Ancient Music
Andrew Manze (director)
3.25am
Prokofiev, Sergei (1891-1953): Russian Overture, Op 72
BBC Philharmonic
Vassily Sinaisky (conductor)
3.38am
Bach, Johann Sebastian (1685-1750): Komm, susser Tod, komm, sel'ge Ruh!, BWV478; Liebster Herr Jesu, wo bleibst du so lange? BWV484; O finstre Nacht, wann wirst du doch vergehen, BWV492; So wunsch' ich mir zu guter Letzt ein selig Stundlein, BWV502 (Schemelli Chorales)
Bernarda Fink (mezzo-soprano)
Marco Fink (bass-baritone)
Domen Marincic (gamba)
Dalibor Miklavcic (organ)
3.49am
Weir, Judith (b.1954): String Quartet
Silesian Quartet
4.01am
Mozart, Wolfgang Amadeus (1756-1791): Piano Concerto No 24 in C minor, K491
Alfred Brendel (piano)
Royal Concertgebouw Orchestra
Bernard Haitink (conductor)
4.32am
Franck, Cesar (1822-1890): Sonata in A, M8
Janine Jansen (violin)
Kathryn Stott (piano)
5.01am
Folquet de Marseille (c.1155-1231): Flores sur Tant m'abellis l'amoros pessamens
Ensemble Lucidarium
5.05am
Zemzaris, Imants (b.1951): The Melancolic Valse (Marvel Pieces for violin and piano)
Janis Bulavs (violin)
Aldis Liepins (piano)
5.12am
Fesch, Willem de (1687-c.1757): Concerto in C minor for violin and orchestra, Op 5 No 5
Manfred Kraemer (violin)
Musica ad Rhenum
5.21am
Ravel, Maurice (1875-1937): Valses nobles et sentimentales
Maurice Ravel (piano)
5.34am
Byrd, William (c.1543-1623): O Lord, how vain - for voice and four viols
Emma Kirkby (soprano)
Rose Consort of Viols
5.41am
Mozart, Wolfgang Amadeus (1756-1791): Piano Sonata in C, K545
Vanda Albota (piano)
5.52am
Calame, Genevieve (1946-1993): Sur la margelle du monde
Bienne Symphony Orchestra
Franco Trinca (conductor)
6.03am
Kabalevsky, Dimitri (1904-1987): Comedians - suite
Slovak Radio Symphony Orchestra in Bratislava
Oliver Dohnanyi (conductor)
6.21am
Haydn, Joseph (1732-1809): Symphony No 94 in G (Surprise)
Bergen Philharmonic Orchestra
Philippe Entremont (conductor)
6.44am
Bach, Johann Sebastian (1685-1750): Oboe d'amore Concerto in A, BWV1055
Uldis Urbans (cor anglais)
Latvian Philharmonic Chamber Orchestra.
Last on
New Year's Day 2010
01:00