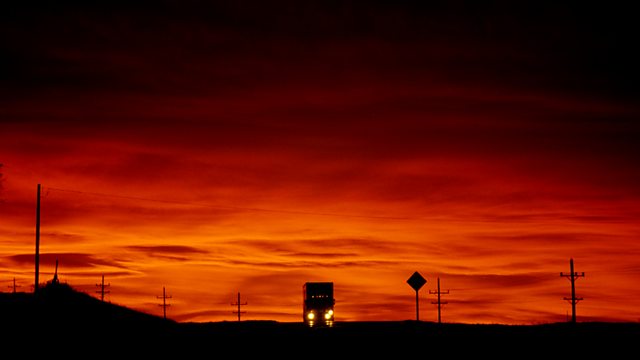 29/12/2009
Presented by Jonathan Swain.
1.00am
Beethoven, Ludwig van (1770 -1827): Piano Sonata No 18 in E flat, Op 31 No 3
Ingrid Fliter (piano)
1.23am
Strauss, Richard (1864-1949): 5 lieder: Das Rosenabend, Op 36 No 1; Liebeshymnus, Op 32 No 3; Morgen, Op 27 No 4; Ich wollt'ein Strausslein binden, Op 68 No 2; Muttertandelei, Op 43 No 2
Elizabeth Watts (soprano)
Gary Matthewman (piano)
1.38am
Schumann, Robert (1810-1856): Quintet in E minor for piano and strings, Op 44
Ingrid Fliter (piano)
Ebene Quartet
2.09am
Bartok, Bela (1881-1945): Piano Concerto No 2, Sz95
Geza Anda (piano)
Royal Concertgebouw Orchestra
Bernard Haitink (conductor)
2.36am
Schmelzer, Johann Heinrich (c1620-1680): Lamento sopra la Morte Ferdinandi III
Les Elements Amsterdam
2.43am
Szollosy, Andras (b.1921): Miserere (Psalmus L) a 6 voci
King's Singers
3.01am
Saint-Saens, Camille (1835-1921): Piano Concerto No 2 in G minor, Op 22
Dubravka Tomsic-Srebotnjak (piano)
Slovenian Radio and Television Symphony Orchestra
Samo Hubad (conductor)
3.24am
Schumann, Robert (1810-1856): Piano Trio No 2 in F, Op 80
Christopher Krenyak (violin)
Jan Insinger (cello)
Dido Keuning (piano)
3.50am
Weiss, Silvius Leopold (1686-1750): Prelude, Toccata and Allegro in G
Hopkinson Smith (baroque lute)
3.59am
Bersa, Blagoje (1873-1934): Dramatska predigra [Dramatic Overture], Op 25a (1898)
Croatian Radio Symphony Orchestra
Mladen Tarbuk (conductor)
4.14am
Haydn, Joseph (1732-1809): Piano Trio in E flat, H XV 10 (1785)
Niklas Sivelov (piano)
Bernt Lysell (violin)
Mikael Sjogren (cello)
4.25am
Huygens, Constantijn (1596-1687): Proba me Deus for bass and continuo, Memor fui dierum antiquorum for soprano and continuo (Pathodia sacra, 1647)
Anne Grimm (soprano)
Peter Kooij (bass)
Mieneke van der Velden (viola da gamba)
Mike Fentross (theorbo)
Leo van Doeselaar (organ)
4.31am
Bach, Johann Sebastian (1685-1750), arr. Samuel Feinberg for piano: Largo (Trio Sonata in C, BWV529)
Sergei Terentjev (piano)
4.40am
Billings, William (1746-1800): 2 Psalm-tunes: Kittery (1786); Cobham
Gregg Smith Singers
Gregg Smith (conductor)
4.43am
Handel, George Frideric (1685-1759): Bramo di trionfar' (Alcina, Act 1, Sc 8)
Graham Pushee (countertenor)
Australian Brandenburg Orchestra
Paul Dyer (artistic director)
4.50am
Sarasate, Pablo de (1844-1908): Zigeunerweisen, Op 20 (version for violin and orchestra)
Frank Peter Zimmerman (violin)
Netherlands Radio Philharmonic Orchestra
Guido Ajmone Marsan (conductor)
5.01am
Glinka, Mikhail Ivanovich (1804-1857): Overture (Ruslan and Lyudmila)
Oslo Philharmonic
Vladimir Jurowsky (conductor)
5.06am
Rubinstein, Anton (1829-1894): On an airy ocean, without rudder or sail (The Demon, Act 2, Sc 4)
Georg Ots (baritone)
Moscow Bolshoi Theatre Orchestra
Kirill Raudsepp (conductor)
5.11am
Purcell, Henry (1659-1695): Sonata No 6 in G minor for two violins and continuo, Z807 (1697)
Il Tempo
5.18am
Chopin, Fryderyk (1810-1849): Fantaisie-impromptu for piano in C sharp minor, Op 66
Dubravka Tomsic (piano)
5.24am
Schubert, Franz (1797-1828): 5 German dances with 7 trios and coda, D90 - originally for string quartet
Zagreb Soloists
5.39am
Mozart, Wolfgang Amadeus (1756-1791): Ch'io mi scordi di te...? Non temer, amato bene, K505 - concert aria
Tuva Semmingsen (soprano)
Jorn Fosheim (piano)
Norwegian Radio Orchestra
Michel Tabachnik (conductor)
5.50am
Marenzio, Luca (c.1553/4-1599): Giunto a la tomba (Il quarto libro de madrigali a cinque voci, Venice, 1584)
Consort of Musicke
6.01am
Glazunov, Alexander Konstantinovich (1865-1936): Mazurka in F sharp minor, Op 25 No 2
Stefan Lindgren (piano)
6.08am
Taneyev, Sergei Ivanovich (1856-1915): Symphony No 4 in C minor, Op 12
Mariinsky Orchestra
Valery Gergiev (conductor)
6.48am
Vivaldi, Antonio (1678-1741): Concerto in C minor for treble recorder, RV441
Michael Schneider (recorder)
Camerata Koln.
Last on