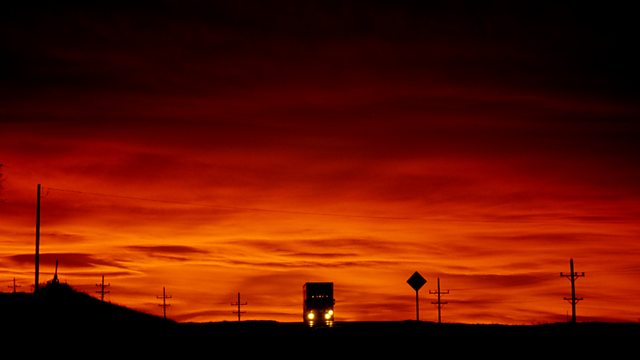 25/12/2009
Presented by Jonathan Swain.
1.00am
Bach, Johann Sebastian (1685-1750): Christmas Oratorio
Evangelist ...... Jan Kobow (tenor)
Ditte Andersen (soprano)
Ann Hallenberg (contralto)
Lars Johansson Brissman (bass)
Swedish Radio Choir
Swedish Radio Symphony Orchestra
Peter Dijkstra (conductor)
2.41am
Haydn, Joseph (1732-1809): String Quartet in D, Op 64 No 5 (The Lark)
Yggdrasil String Quartet:
Fredrik Paulsson, Per Ohman (violins)
Robert Westlund (viola)
Per Nystrom (cello)
3.01am
Vaughan Williams, Ralph (1872-1958): Hodie (A Christmas Cantata) - prologue
Hungarian Radio Choir
Hungarian Radio and Television Symphony Orchestra
Tamas Vasary (conductor)
3.05am
Villa Lobos, Heitor (1887-1959): O Polichinello (Le polichinelle) - Rag doll (Prole do bebe - No 7)
Valerie Tryon (piano)
3.06am
Rimsky-Korsakov, Nikolai (1844-1908), transcr. Rachmaninov: (The) Flight of the Bumble-Bee
Valerie Tryon (piano)
3.08am
Roussel, Albert (1869-1937): Suite (Le festin de l'araignee, Op 17)
Royal Concertgebouw Orchestra
Bernard Haitink (conductor)
3.26am
Beethoven, Ludwig van (1770-1827): Notturno for piano and viola, O p 42 (arr. from Serenade, Op 8)
Gisela Bergman (viola)
Patricia Verhagen (piano)
3.47am
Anon (12th century): Natali regis glorie - hymn
3.5am
Anon: Lullay, lullow - carol
3.54am
Anon: Ther is no rose (sic)
3.58am
Trad. French: Noel Nouvelet
Zefiro Torna
Jurgen De Bruyn (lute/director)
4.01am
Mozart, Wolfgang Amadeus (1756-1791): Quintet in E flat for piano, oboe, clarinet, horn and bassoon, K452
Leif Ove Andsnes (piano)
Kari Krikku (clarinet)
Albrecht Meyer (oboe)
Jonathan Williams (horn)
Per Hannisdal (bassoon)
4.25am
Nowowiejski, Felix (1877-1946): Weihnacht in der uralten Marienkirche zu Krak au. Fantasie Felix Nowowiejski
Waclaw Golonka (organ - Sv Vojtech, Prague, built in 1877 by GF Steinmeyer and Co)
4.33am
Guilmant, Alexandre (1837-1911): Introduction and Variations on a Polish Noel
Michael Dudman (organ)
4.36am
Heyral, Marc (b.19??), arr Gaston Rochon: Le Noel de la Rue (1952)
4.41am
Traditional carol: Entre le boeuf et l'ane gris
Richard Pare (harpsichord)
Les chanteurs de Saint-Coeur-de-Marie
Claude Gosselin (conductor)
4.45am
Handel, Georg Frideric (1685-1759): Susser Blumen Ambraflocken, HWV204 (German Arias - No 3)
4.51am
Handel: Die ihr aus dunkeln Gruften den eiteln Mammon grabt, HWV208 (German Arias - No 7)
Helene Plouffe (violin)
Louise Pellerin (oboe)
Dom Andre Laberge (organ - 1999 Karl Wilhelm at the abbey church Saint-Benoit-du-Lac)
4.56am
Sweelinck, Jan Pieterszoon (1562-1621): Hodie Christus natus est
Toronto Mendelssohn Youth Choir
Hannaford Street Silver Band:
Stuart Laughton, James Gardiner (solo trumpets)
Edward Moroney (organ)
John Rutter (conductor)
5.01am
Dupre, Marcel (1886-1971): Variations on Adeste fideles
Tong-Soon Kwak (Rieger organ at the Torch Centre for World Missions in Seoul, Korea)
5.09am
Goodall, Howard (b.1958): Romance of the Angels
Robert Quinney (organ)
BBC Singers
Stephen Cleobury (conductor)
5.14am
Samuel-Rousseau, Marcel (1882-1955): Variations Pastorales sur un vieux Noel
Erica Goodman (harp)
Members of the Amadeus Ensemble:
Moshe Hammer, Barry Schifman (violins)
Douglas Perry (viola)
Jack Mendelssohn (cello)
5.24am
Brahms, Johannes (1833-1897): Variations on a Theme by Haydn, Op 56a - version for orchestra (St Antoni Chorale)
Oslo Philharmonic
Marek Janowski (conductor)
5.40am
Nenov, Dimitar (1901-1953): The Holy One
Sofia Chamber Choir
Vassil Arnaudov (conductor)
5.44am
Buxtehude, Dietrich (1637-1707): Prelude in G minor, BuxWV 149
Lorenzo Ghielmi (harpsichord)
5.52am
Forster, Kaspar (1616-1673): Dulcis amor Jesu, KBPJ 16
Olga Pasiecznik, Marta Boberska (soprano)
Il Tempo
6.01am
Mendelssohn, Felix (1809-1847): String Octet in E flat, Op 20 (1825)
Kodaly Quartet
Bartok String Quartet
6.29am
Bach, Johann Sebastian (1685-1750): Komm, heiliger Geist - chorale-prelude for organ, BWV652
Bine Katrine Bryndorf (organ - Hjertling Church, Jutland)
6.38am
Henderson, Ruth Watson (b.1932): Come Holy Spirit - for SATB with organ accompaniment
Matthew Larkin (organ)
Elmer Iseler Singers
Lydia Adams (conductor)
6.43am
Salzedo, Carlos (1885-1961): Concert Variations on O Tannenbaum
Judy Loman (harp)
6.48am
Anon (16th century): Branles
6.49am
Anon (16th century): Suite
Hortus Musicus
Andres Mustonen (conductor)
6.57am
Cornelius, Peter (1824-74), arr. Ruth Watson Henderson: Three Kings
Ben Heppner (tenor)
Toronto Children's Chorus
Members of the Toronto Symphony Orchestra
Jean Ashworth Bartle (conductor).
Last on