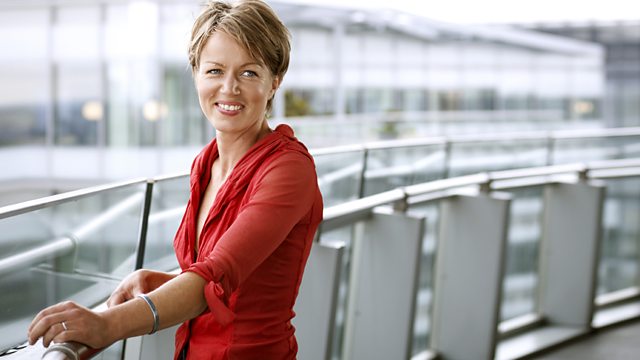 Debs Newbold, Mary Hampton and Dave Price
Presented by Verity Sharp.
Including a seasonal tune played on the ukulele, Finola o Siochur singing a Christmas song from the Irish Celtic tradition and organist Carleton Etherington playing Von Himmel Hoch by Garth Edmondson. Plus powerful group singing from the congregation of Liberty Baptist Church in Alabama alongside carol singers at the Royal Hotel, Dungworth, near Sheffield.
And in a special collaboration session at the BBC's Maida Vale studios, a trio of performers take us on a winter's journey, through song, spoken word and percussion. Traditional storyteller Debs Newbold, folk singer Mary Hampton and experimental percussionist Dave Price weave a rich aural tapestry of sounds, stories and songs, taking fragments from traditional winter tales and adding new material and improvisations to create a unique Christmas Eve soundworld.
The three performers, who have never worked together before, create a modern-day radio ballad, based on a winter theme. Each uses their own speciality, possibly venturing into areas unknown, and draw on traditional pagan winter stories and folk songs about the frosty season, combining fragments of these with experimental and perhaps theatrical percussion.
Debs Newbold is a renowned storyteller and cabaret performer, who has long been telling tales from her Anglo-Irish family, and is currently the English Folk Dance and Song Society's storyteller-in-residence at Cecil Sharp House in London. Mary Hampton is a young folk singer from Brighton, whose enchanting and often eerie folk singing mixes the traditional with the new. Percussionist and composer Dave Price is a member of the Nozferatu collective and works with the Gecko physical theatre company as well as pursuing various other projects, involving artists such as Regina Spektor, Gwyneth Herbert and Aqualung.
Last on