Add music you love and enjoy it with
Timings (where shown) are from the start of the programme in hours and minutes
00:00

Lyman

Mele Kalikimaka

Performers: Arthur Lyman

Merry Readymade (To Whom It May Concern), Readymade

00:02

Trad

Sleigh Ride

Arranger: Coconami Performers: Coconami

Wish You Too, Trikont US 0387

00:05

Radian

Git Cut Derivat

Performers: Radian

Chimeric, Thrill Jockey Thrill CD 224

00:08

Anon

Anon - The Farmer

Arranger: Carr/Wood/Cutting/Tweed Performers: Two Duos

Albion, Navigator 29

00:16

Performers: The Change Ringing Handbell Group

Change Ringing on Handbells, Saydisc CD SDL 310

00:09

Trad

Jag haver ingen kärare

Arranger: Haltli Performers: Frode Haltli (accordion), Arve Henriksen (trumpet), Maja Solveig Kjelstrup Ratkje, (voice), Garth Knox (viola)

Passing Images, ECM 1913 985 6022

00:29

Dhuibhir

A Dhia na Nollag

Performers: Finola Ó Siochrú

Solas Na Soilse, Foras na Gaeilge FOSCD002

00:35

Drever/Green/O'Rourke

Horizontigo

Performers: Lau

Arc Light, Navigator 20

Debs Newbold, Mary Hampton & Dave Price Session

00:42

Debs Newbold, Mary Hampton & Dave Price

"A Midwinter Tale"

Recorded 27th November 2009

01:09

Edmondson

Von Himmel Hoch

Performers: Carleton Etherington (organ)

The Three Kings, Delphian DCD34047

01:14

Max Reger

The Virgin's Slumber Song

Performers: Tewkesbury Abbey Schola Cantorum

The Three Kings, Delphian DCD34047

01:16

Dissard/Sanchez

Je et Tu No Croient plus au Père Noel

Performers: Marianne Dissard & Amparo Sanchez

Wish You Too, Trikont US 0387

01:19

Thompson/O'Rourke

Glencoe

Performers: Richard Thompson

Grizzly Man, Cooking Vinyl CookCD360

01:21

Trad

The Bible's Right

Performers: Sister O. M. Terrell

Goodbye, Babylon, Dust to Digital

01:24

Hamrick

Lloyd 503

Performers: Liberty Baptist Church

Awake My Soul, Awake Productions

01:26

Trad

Swaledale

Performers: Billy Mills & carol singers at the Royal Hotel, Dungworth

Hark, Hark! What News, Village Carols VC009

01:31

Mann

Blooming Youth 176b

Arranger: Gellert/Jones Performers: Rayna Gellert & John Paul Jones

Awake My Soul, Awake Productions

01:33

Performers: Animal Collective

Here comes the Indian, Paw Track PAW001
Debs Newbold, Mary Hampton & Dave Price Session

For the December Late Junction Session Verity Sharp brought together a storyteller, folk singer and experimental percussionist, to weave a unique tapestry of sounds, story and song on a Winter theme. Debs Newbold, Mary Hampton and Dave Price had never worked together before Late Junction approached them and they spent a day at the BBC's Maida Vale studios crafting an evocative story, part soundscape, part folk ballad, telling 'A Midwinter Tale'.

Debs Newbold, story teller in residence at Cecil Sharp House, was inspired by a tale collected by the late Duncan Williamson, in which Old Father Time visits a couple in their remote house on an unforgiving winter's night. Crafting the story anew, Debs worked with folk singer Mary Hampton to create a musical narrative that would match her new tale. When the two met percussionist Dave Price, and his battery of instruments, for the first time at Maida Vale they added further layers of musical expression to the story. As well as tam-tam, kit drums, timpani, vibraphone, and celeste Dave played temple bowls hidden inside a prepared grand piano, and also managed a spot of fiddling and singing. Mary added melodic elements on guitar and piano, but also sang and played toast racks and metronomes, adding to the layers of sound that underpinned the tale. Every part of the session, except the sound of the arctic wind, blowing in from the depths of the BBC sound effects archive, was created on acoustic instruments and recorded live. The story ends with a new, enthralling version of 'The Cherry Tree Carol' written especially for the session by Mary Hampton.
Late Junction on BBC Playlister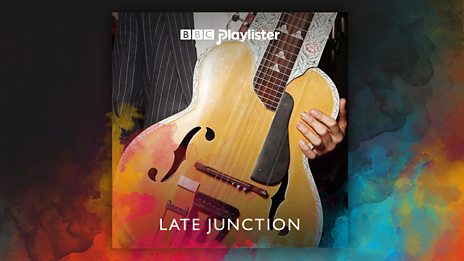 Selections from Radio 3's eclectic showcase of music from around the world.
Podcast
Late Junction's unique studio sessions bring together musicians who have never recorded together…