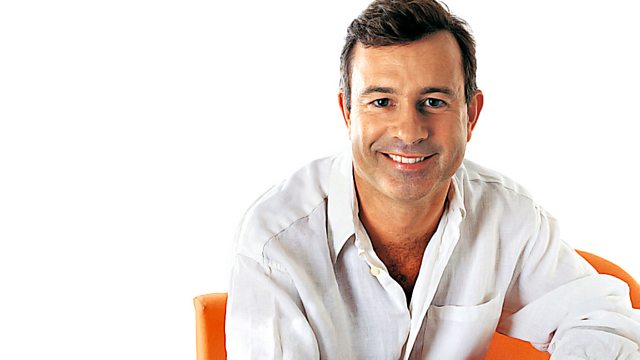 Thursday - James Jolly
With James Jolly.
Delalande provides music to dine by, Messiaen provides food for spiritual thought and the Group of Three is dedicated to famous TV chefs.
10.00am
Delalande: Airs de ballet de la paix (Symphonies pour les soupers du Roy, 11eme Suite)
La Simphonie de Marais
Hugo Reyne (conductor)
HARMONIA MUNDI HMC901337.40
10.20am
Messiaen: Le banquet celeste
Olivier Messiaen (organ)
EMI CZS 7674002
10.30am
Mendelssohn: Psalm 42
Sibylla Rubens (soprano)
Scot Weir, Christoph Genz (tenor)
Matthias Goerne, Thomas Mehnert (bass)
Gachinger Kantorei Stuttgart
Bach-Collegium Stuttgart
Helmuth Rilling (conductor)
HANSSLER CD 98273
10.55am
Rachmaninov: Preludes, Op 32 Nos 5-8
Steven Osborne (piano)
HYPERION CDA 67700
11.05am
Burns: Jamie, come try me
Elspeth Cowie (voice)
LINN CKD 099
11.07am
Arne: Delia
Emma Kirkby (soprano)
London Baroque
Charles Medlam (director)
EMI CDC 7497992
11.13am
Morley: No, no, no, no, Nigella
The Consort of Musicke
Anthony Rooley (conductor)
DECCA 476 1971
11.25am
Ruggles: Angels
Brass Ensemble
Michael Tilson Thomas (conductor)
SONY SX2K 66610
11.30am
Strauss: Le bourgeois gentilhomme, Op 60
Royal Philharmonic Orchestra
Thomas Beecham (conductor)
EMI CDH 7631062.
Last on