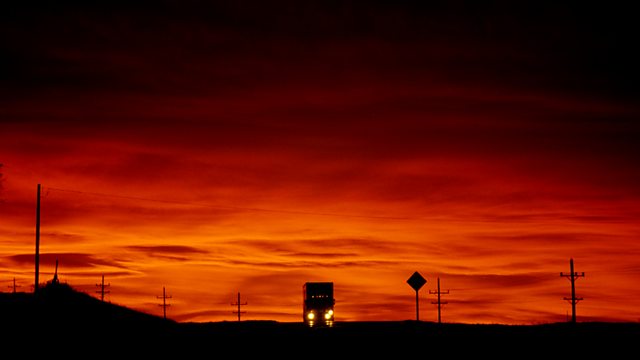 22/12/2009
Presented by Jonathan Swain.
1.00am
Ryba, Jakub Jan (1765-1815): Missa pastoralis bohemica Hej mistre! (Hail Master!)
1.44am
Trad: Christ was born (old Czech carol)
Eva Drizgova Jirusova (soprano)
Jana Wallingero Stefackova (mezzo-soprano)
Vladimir Dolezal (tenor)
Jiri Sulzenko (bass)
Katerina Chrobokova (organ)
Czech Philharmonic Chorus
Petr Fiala (director)
Prague Radio Symphony Orchestra
Vladimir Valek (conductor)
1.49am
Saint-Saens, Camille (1835-1921): Septet in E flat for trumpet, piano and strings, Op 65
Ole Edvard Antonsen (trumpet)
Elise Baatnes, Karolina Radziej (violins)
Lars Anders Tomter (viola)
Hjalmer Kvam (cello)
Marius Faltby (double bass)
Enrico Pace (piano)
2.06am
Brahms, Johannes (1833-1897): Symphony No 4 in E minor, Op 98
Leipzig Gewandhaus Orchestra
Riccardo Chailly (conductor)
2.45am
Hammerschmidt, Andreas (1611/12-1675): Suite in G minor/G major for winds (Ester Fleiss)
Hesperion XX
Jordi Savall (director)
3.01am
Wagner, Richard (1813-1883): Rienzi Overture
Bergen Philharmonic Orchestra
Simone Young (conductor)
3.15am
Schubert, Franz (1797-1828): Die Burgschaft, D246
Christoph Pregardien (tenor)
Andreas Staier (fortepiano - after Johann Fritz, Vienna c. 1815)
3.33am
Valerius, Adriaen (c.1575-1625): Engels Malsims
Toyohiko Satoh (lute)
3.35am
Sweelinck, Jan Pieterszoon (1562-1621): Malle Symen
Peter van Dijk (organ)
3.38am
Willan, Healey (1880-1968): Symphony No 2 in C minor, B74
Edmonton Symphony Orchestra
Uri Mayer (conductor)
4.21am
Abel, Carl Friedrich (1723-1787): Trio in F for two flutes and continuo
Karl Kaiser, Michael Schneider (flutes)
Rainer Zipperling (cello)
Harald Hoeren (harpsichord)
4.31am
Schumann, Robert (1810-1856): Faschingsschwank aus Wien, Op 26
Leif Ove Andsnes (piano)
4.52am
Verdi, Giuseppe (1813-1901): Sinfonia: Giovanna D'Arco
Canadian Opera Company Orchestra
Richard Bradshaw (conductor)
5.01am
Praetorius, Michael (1571-1621): Renaissance Concerto for brass ensemble
Hungarian Brass Ensemble
5.05am
Wagenseil, Georg Christoph (1715-1777): Concerto in E flat for trombone and orchestra
Warwick Tyrrell (trombone)
Adelaide Symphony Orchestra
Nicholas Braithwaite (conductor)
5.15am
Mozart, Wolfgang Amadeus (1756-1791): Adagio and Fugue in C minor for strings, K546
Risor Festival Strings
5.23am
Hidas, Frigyes (1928-2007): Adagio for orchestra
Hungarian Radio Orchestra
Gyorgy Lehel (conductor)
5.35am
Kodaly, Zoltan (1882-1967): Four Italian madrigals for female chorus
Jutland Chamber Choir
Mogens Dahl (director)
5.47am
Byrd, William (c.1540-1623): Pavana lachrimae (after John Dowland) for keyboard, MB XXVIII 54
Aapo Hakkinen (harpsichord)
5.55am
Handel, Georg Frideric (1685-1759): Music for the Royal Fireworks
Collegium Aureum
6.17am
Pacius, Fredrik (1809-1891): Overture (The Hunt of King Charles) - 1852
Finnish Radio Symphony Orchestra
Jukka-Pekka Saraste (conductor)
6.25am
Sibelius, Jean (1865-1957): 10 Pensees lyriques for piano, Op 40
Eero Heinonen (piano)
6.44am
Hummel, Johann Nepomuk (1778-1837): Trio in G for violin, viola and cello
Viktor Simcisko (violin)
Alzbeta Plazkurova (viola)
Jozef Sikora (cello).
Last on